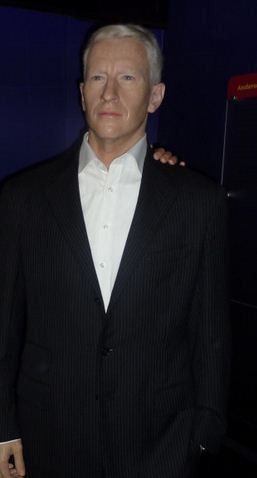 Anderson Cooper is the latest one to boldly come out and declare he is gay. The CNN journalist admitted his sexual orientation in an e-mail to Andrew Sullivan who is the Daily Beast columnist and his close friend.
"The fact is, I'm gay, always have been, always will be, and I couldn't be any more happy, comfortable with myself, and proud," he wrote in the mail.
Cooper's sexuality has been a topic of discussion in the media and his silence had fumed it more. He realised the fact that it was doing more harm than good by not speaking up.
"It's become clear to me that by remaining silent on certain aspects of my personal life for so long, I have given some the mistaken impression that I am trying to hide something - something that makes me uncomfortable, ashamed or even afraid. This is distressing because it is simply not true."
But the host of the Anderson show explains that he had always been very open about it to friends and family and went on to point out the importance of visibility.
"I still consider myself a reserved person and I hope this doesn't mean an end to a small amount of personal space. But I do think visibility is important, more important than preserving my reporter's shield of privacy," he added.
With this revelation he joins CNN colleagues Don Lemon and Jane Velez-Mitchell, as well as MSNBC's Thomas Roberts, Rachel Maddow and Steve Kornacki. It has also gained him many well-wishers while celebrities and friends have offered their good wishes.
The host of the Ellen DeGeneres Show who had revealed she was gay years ago congratulated him on the microblogging site. "I'm proud of you, @AndersonCooper," Ellen tweeted.
Barney Stinson of How I Met Your Mother Neil Patrick Harris posted good wishes on his account. "Good for you, @AndersonCooper. You're awesome," Neil wrote.
Cooper's close friend Kelly Ripa came out with support on the social networking site.
"So proud of you, @anderson cooper. Always have been, always will be," Ripa tweeted.
Comedian Joan Rivers said she finally realised why he never asked her out.
"Thrilled @AndersonCooper came out! So, THAT'S why he never wanted to date me!" she tweeted, "I would've loved having Gloria Vanderbilt as my mother-in-law".
Cooper's show, Anderson Cooper 360, which received an award this year from the Gay and Lesbian Alliance Against Defamation (GLAAD), also got backing from the gay rights group in a statement.
"Even prior to coming out publically, Anderson's terrific work has raised awareness of inequalities facing LGBT people," Herndon Graddick, GLAAD President said. "I'm proud to call him my friend. He's a role model to millions and now will inspire countless others."