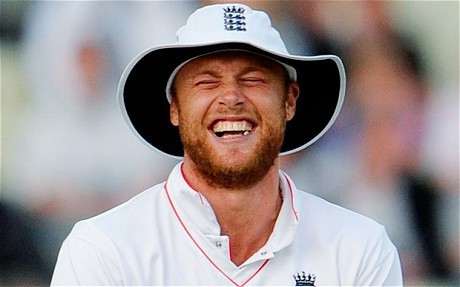 Former England cricket captain Andrew Flintoff is all set to re-invent himself as an athlete and sportsperson. The Daily Mail reports he is to be granted a licence to compete as a professional heavyweight boxer. The paperwork has yet to be filed but it is understood Flintoff could debut as early as December.
Flintoff has reportedly given up alcohol and has lost more than two stone after 10 weeks of intensive training with McGuigan. His present weight is reportedly to be under 16 stone, meaning he has a shade more work to do to drop into the optimum weight range (about 15-and-a-half stone) for the heavyweight category.
The 34 year old ex-Lancashire all-rounder retired from Test cricket in 2009, after scoring 3845 runs at 31.77 (with 26 half-centuries and five centuries) and picking up 226 wickets at an average of 32.78 a strike. He followed that up with retirement from One Day Internationals (ODI) and all other forms of the game in September 2010, stating he had "no alternative" after being told he would be physically unable to compete.
"I was told the problems I have been trying to overcome in rehab for the last year, following the latest of a series of operations, would not recover sufficiently to allow a comeback I will now be taking a break before deciding which future direction to take," he was quoted as saying.
Strangely though, two years later he declared his intention to compete in the boxing ring and a BBC report quoted his newly-appointed trainer, Barry McGuigan, as confirming a 30 November bout (against an unnamed opponent) and his charge's desire for a career in the sport.
"It's not a one-off," McGuigan, 51, a former world featherweight champion, said, adding, "He wants to fight a number of times. He has ambition, he wants to fight again. Andrew's a very fit, determined and focused individual, he wants a challenge in his life and this certainly is that. He's very good at throwing the right hand, he's got good feet and I was very impressed with him."
"This is an amazing opportunity to try a sport that I love, to be tutored by a man I respect and admire and, at the age of 34, the chance to become a professional sportsman again. It's a huge challenge, probably the biggest I have ever undertaken, especially in such a short time-frame," Flintoff explained.
There has been some amount of caution expressed from people within the sport, notably David Price, the British and Commonwealth heavyweight champion, who has been quoted as saying Flintoff would be welcomed, but only if his motives were genuine.
"Freddie's as entitled as anyone to try it out and some people come to professional boxing later in life but if it's just some type of PR stunt then it's disrespectful to boxing," Price insisted.