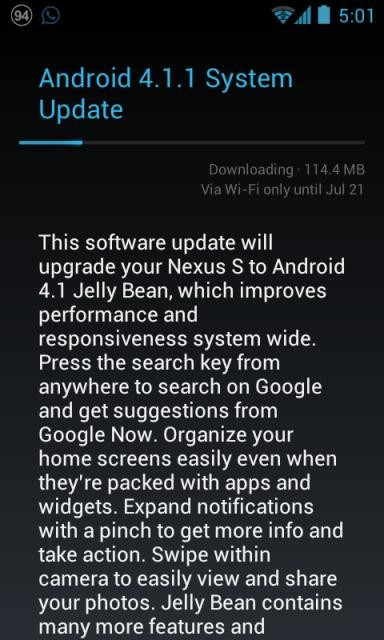 Many Android devices have received the Jelly Bean update over the last few months. Now the popular Nexus S has become the latest Android smartphone to port the Jelly Bean Over-The-Air (OTA) update. As GottaBe Mobile notes, Google's Nexus S is poised to get the Android 4.1 Jelly Bean update on specific carriers.
The company has reportedly posted the status update for Nexus S, confirming that the device will receive updates on H3G, O2, T-Mobile, Rogers, and Vodafone. According to Phones Review, the company stated that the OTA update will hit most countries in the next few days, without actually specifying release dates. The massive rollout of OTA update means the Samsung Galaxy Nexus and Motorola Xoom will be next to get the Jelly Bean update.
Galaxy S3, HTC One X and One S owners are likely to receive OTA updates in the next couple of months, while US smartphone users may have to wait a little while longer.
It must be noted that the current Jelly Bean OTA update of size 114MB is limited to the Nexus S GT-I9023 and GT-I9020T variants. The former variant ships with a Super LCD display, while the latter sports Super AMOLED capacitive touchscreen.
Those who cannot wait a few more days for the official release of the OTA on their cellular services can now download the file through a bypass link to Google's servers. But, as XDA Developers note, there is truly a hidden link to the Jelly Bean OTA update.
The posted OTA update file on the XDA forum may be an unofficial version, and the user himself admits that he is unsure if the file works only "for just i9023" model of Nexus S or "if it's general for all". It appears to be a legit file directly linked to Google servers. IBTimes UK advises you to back up your data before performing any update.
Download: Android 4.1 Jelly Bean OTA update file