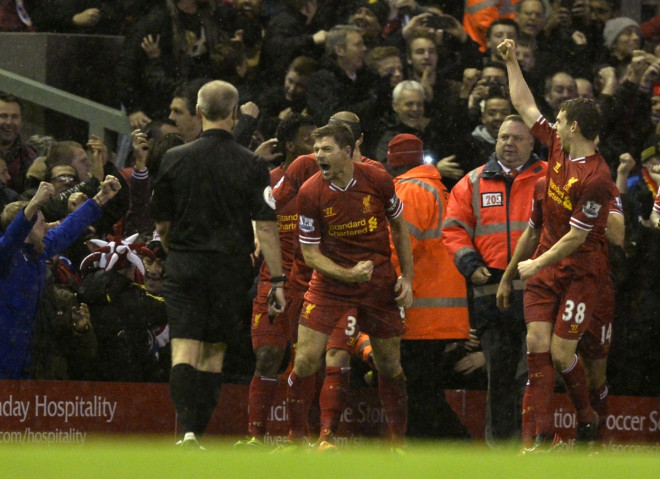 Former Everton striker Andy Gray has urged Liverpool to target winning the Premier League title this season.
The Merseyside club are fourth in the league table with 56 points from 27 games and are four points away from league leaders Chelsea. Brendan Rodgers side are also six points ahead of fifth place Tottenham Hotspur and with their current form, are likely to finish in top four.
Gray, who was with Liverpool's arch rivals Everton from 1983-85, claims the Reds should forget about qualifying for the Champions League next season and focus on winning the silverware.
"I watched Liverpool's match against Fulham recently and when Steven Gerrard scored the penalty to win the game, there was a celebration that showed me the players think they can win this title," Gray told talkSPORT.
"They think they have got a chance and I think they have got a chance. If they are sitting where they are, which is four points off the top with both Chelsea and Man City to come to Anfield, why would you not have a go at it?
"They should forget about being fourth, I think that's done and dusted. Why not have a right go at it? You can't plan these things," he said.
During his time at Everton, Gray won the First Division title with the Toffees in 1985. He claims that Everton went for the glory and were able to achieve it. Gray feels Liverpool can lift the league this season, should the Reds come up with the similar approach as that of his former club.
"When we won the title in the 1985, we didn't go in to the season thinking we would win it. Suddenly, somewhere along the way, it dawned on us that we might," Gray explained.
"We went for it and ended up winning it. It has dawned on the Liverpool players that they can win it this year, and I think they will go for it," he added.
Liverpool are yet to face Manchester United, Spurs, Chelsea and City in the league fixture, with only United being played away from home out of the four fixtures.
The Reds have lost only one league game at Anfield this season and victory over the Blues and the Citizens can further improve their chance of winning the title.