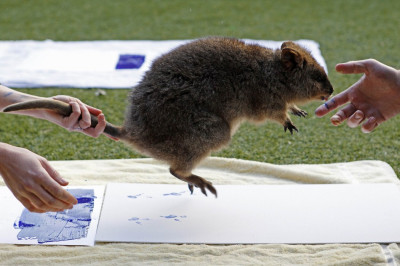 When human beings failed to protect the endangered animals, guess who decided to take a step forward in the matter? Animals themselves!
The never-before-seen sights of a dragon printing its paws on canvas and then walking around it with his tongue sticking out, a penguin happily dancing around while printing its paws on paper, a Quokka dancing around with its tiny feet on paint and a huge elephant paw being printed with the help of zoo keepers! This is what literally happened at the Taronga Zoo in Sydney.
Animals of the Taronga Zoo in Sydney are printing their paws, flippers and hooves as a gesture to promote animal conservation. Elephants, seals and penguins have dipped their feet into animal-friendly paint and then printed their paws in canvases. According to the Herald Sun, keepers have been collecting the prints of some of the 4,000 animals at the zoo and Taronga Western Plains Zoo at Dubbo in north-western NSW over the past few weeks.
The friendly gesture comes after the Taronga zoo announced its commitment to an elephant protection project in Kui Buri National Park in Thailand. In a joint programme with Zoos Victora, Taronga zoo is funding the construction and maintenance project for two guard stations at key locations in a chain of outposts on the park's border to help prevent elephant-human conflict. The Australian reports that the project to help elephants would cost around 64,022 pounds.
"By letting (the animals) make their mark, we're visually signifying Taronga's commitment to wildlife conservation. We really are for the wild and we'd like people to join us in this pledge," said Taronga Zoo Director, Cameron Kerr.
According to the Daily Telegraph, the animals were excited to print their paws. Munro, Taronga's curious Fiordland Penguin, ran into a crowd of onlookers and photographers in the excitement of the event. Making a swift recovery, he skidded across the canvas with glee.
Recently, we saw the dog artist, Uggie, printing his paws on the cement as part of receiving the Hollywood Walk of Fame.