Uggie the Dog Leaves Paw Prints in Hollywood, Bids Goodbye to Acting [PHOTOS]
Much as great actors and actresses do, Uggie (the dog who played French actor Jean Dujardin's sidekick in the Academy Award winning film The Artist) has officially retired from the world of cinema and Hollywood, much as it does the career of any veteran professional, celebrated that of Uggie, with a Paw on the Hollywood Walk of Fame! Uggie's retirement brings the curtain down a career spanning 10 years.
The star of the evening, a Jack Russell terrier, looked suitably stylish, in a black bow tie, as he arrived, according to the Spokesman, in a fire truck, to be presented with a cake in the shape of a fire hydrant and a golden bow-tie collar.
"Everybody thinks I am great trainer. I don't think so. I think he is just a great dog," trainer Omar von Muller said at the ceremony, thanking Uggie's fans and his thousands of followers on Twitter and Facebook.
In fact, so popular was Uggie during the days after his performance in The Artist, there was even a campaign started to award him the Oscar for his performances. Sadly though, the rules of the Academy were very strict and such could not be. However, Uggie's accomplishments do include the 2011 Palm Dog Award, at the Cannes Film Festival that year and the Golden Collar Award in Los Angeles in February.
Meanwhile, Yahoo reported saying Uggie hung around after the ceremony to autograph DVD and Blu-ray copies of The Artist. Unfortunately the little fellow seemed visibly shaken by all the fuss about him and was soon whisked off to rest.
Uggie's other film credits include appearances in Mr Fix It, Wassup Rockers and Water For Elephants. Incidentally, he joins other animal stars like Kermit the frog, Big Bird, the Muppets and the legendary Godzilla with his own star on the Walk.
Check out these photographs of Uggie the dog making his mark on the Hollywood Walk of Fame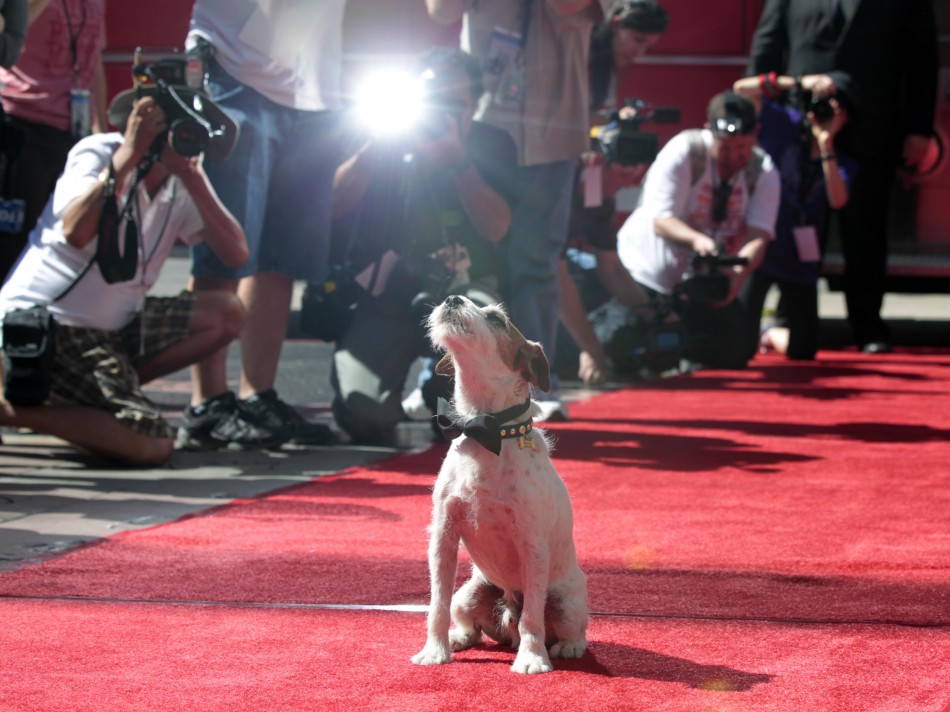 © Copyright IBTimes 2023. All rights reserved.