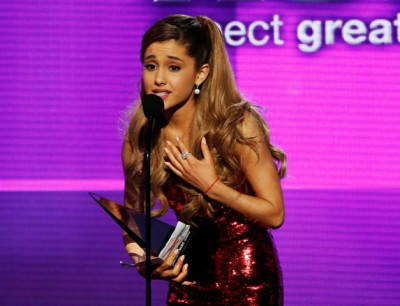 Nickelodeon star Ariana Grande has hinted that she is no longer dating Nathan Sykes.
During an interview on Florida radio's 93.3 FLZ, the 20-year-old pop star talked about her relationship with The Wanted singer.
"You're a little behind," she said when asked about Sykes, adding: "We're really good friends."
The two started dating back in September and confirmed the news on Twitter.
"we hesitated saying anything as people can be a bit insensitive but thank u we value all of your happiness, thank you for valuing ours," she had posted.
Sykes followed: "So, I guess it's obvious now…thanks to everyone who is being so lovely. I'm so happy
This came after Grande's former boyfriend, Australian star Jai Brooks, blasted her on Twitter, claiming that she cheated on him with Sykes in October.
"Yes I was cheated on. Yes it does s**k. Yes I was left for another man," the 18-year-old wrote in an extended tweet: "And this happens everyday to so many people of every age, gender, race. I happen to be one of those people and I'm in a situation where I am constantly reminded of it every day. Like anyone who has been cheated on, it has been tough for me but I'm finally ready to move on."
However, the Victorious actress responded in a series of tweets, writing: "You said to me if I didn't come back to you, you'd make me look bad to the entire world... I'm no longer afraid of you or your lies anymore."
"I'm going to be the lady my mother raised and carry myself with class and dignity... But I will never be any man's press opportunity," she said, later adding: "I'm finally happy. Words can't hurt me anymore."