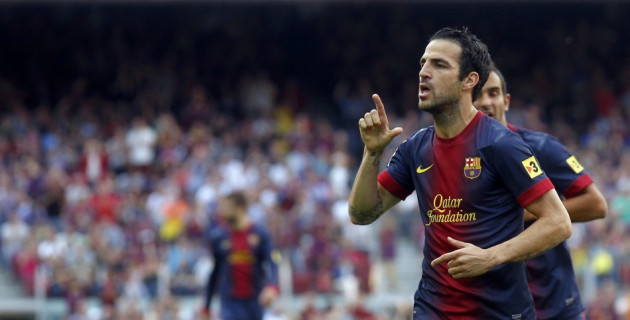 Former Arsenal captain Cesc Fabregas has refused to rule out a move to the Emirates in the distant future.
In an interview with the Guardian, Fabregas revealed that the Gunners still have a place in his heart and he would love to move back someday, though he is sceptical about his chances of making it back as a player. The Spaniard left the Emirates as a 24-year-old in 2011 to make his way to his boyhood club Barcelona but insists that it was harder to leave at that age than to make the shift as a 16-year-old to the Gunners from Barcelona.
The 26-year-old insists that he may follow the likes of Dennis Bergkamp and Sol Campbell who earned their coaching badges at Arsenal and return after he is done with football. The Spaniard was heavily linked with a move back to the Premier League this summer with Manchester United but chose to continue in Barcelona.
"Arsenal is in my heart and always will be. I don't know if I'll have the opportunity to go back and play there one day, or maybe after football. It's a club that is always going to be there and will always open its doors to me. The club's like a family so even if it wasn't as a coach, I'm sure they'd give me the chance to play a role," Fabregas said.
"Sol [Campbell] is there now. Arsenal help a lot with the formation of coaches. [Dennis] Bergkamp also went there two, three times a week when he was doing his coaching badges. In that sense it's a lovely club and there might be the chance to do something with them," he added.
Fabregas was among the most talented players to have taken the field in the Arsene Wenger era, making 212 appearances for the club and scoring 35 goals in return during his eight year tenure in north London. His desertion in 2011 left the Gunners in a state of disarray, when they lost 8-2 to Manchester United and were looking likely to succumb to pressure, but Wenger managed to get his team back on track and are currently placed well to push for trophies.
"It's nice to think I made a mark. I've always felt very welcome; there's a lot of affection, especially from Arsenal fans. I think they even understood me when I left. There was no rancour, no bitterness. They understood that I'd given everything for eight years, that I reached a point where I felt I couldn't give any more, and that I left for personal reasons: to go home, to be with my family, to play for my club, the one I'd been at as a kid. It was important for me to leave the right way," Fabregas concluded.