Nacho Monreal believes Tottenham Hotspur being above Arsenal in the league table is anomalous. The Gunners are currently fifth in the Premier League table with 50 points from 29 games, four points behind fourth placed Spurs with a game in hand as they head into the weekend fixtures after the International break.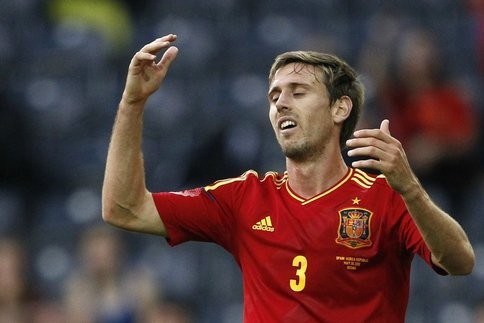 The Spanish international completed his move to the Emirates on deadline day in the January transfer window and has been a revelation for the Gunners in defence this season, when Kieran Gibbs was out nursing an injury. The defender also scored an all-important goal for Arsenal against Swansea at the Liberty Stadium in his side's last outing in the Premier League.
"It's logical that people are talking because the situation [with Tottenham ahead in the table] is not as it should be. We have to use our energy for the matches. If you are thinking of what people are saying, you are wasting that energy. You have to concentrate on the next match. Every fixture is now a final we have to win. That has to be our mentality. I'm sure we will put it right," Monreal said.
Arsenal have a comparatively easier run of fixtures when compared to their North London rivals, having to play Reading, West Bromwich Albion, Norwich followed by Everton at the Emirates in their next four fixtures. In comparison, Andre Villas-Boas' side travel to Swansea and Chelsea while hosting Manchester City and Everton at home in the run in.
Spurs also have the quarter finals of the Europa League to contend alongside Chelsea and Newcastle, who have also progressed into the round of eight. Arsenal, on the other hand, have crashed out of all competitions and have only the Premier League to concentrate on.
Diaby on Arsenal's Midfield
Meanwhile, Abou Diaby believes that Arsenal's proficiency in midfield in their last two games against Swansea and Bayern Munich is the reason behind their solidarity in defence. The Gunners put on a splendid performance against the Bundesliga leaders to pull off a major 2-0 upset at the Allianz Arena but crashed out of the Champions League on away goals.
"The midfield is the heart of the team and it is really important. They are the ones who defend and give the ball forward, defensively they give a good balance to the team. So it is very important to be strong in this area. If we want to succeed and win games, we need to be solid. We need to be together and that is what we have shown in the past two games," he said.