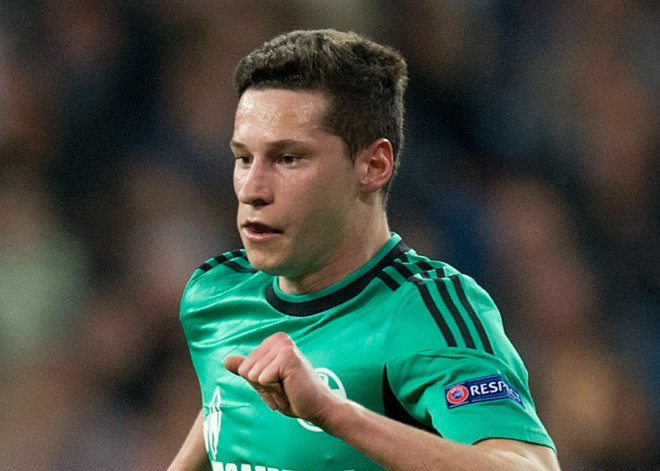 Arsenal have suffered a seismic blow prior to reattempting to sign Schalke's Julian Draxler after the player's agent said it would take "an awful lot" for the German international to leave for The Emirates Stadium.
The Gunners failed to agree a deal with Draxler in the January transfer window but have been heavily linked with signing the 20 year old this summer.
With Schalke expected to qualify for next season's Champions League amid Arsenal's struggles to cement fourth place in the Premier League, north London does not possess the same attraction it once did.
"Why should a player leave the club if the club have just built a top team? I also think it's good if players stick to what they have signed," agent Roger Wittman told Sport BILD.
"It would take an awful lot to happen for one of the two [Draxler or Jefferson Farfan] to leave. And even then I'm not sure it would be possible.
"The players understand that there is currently a lot of peace at the club and a lot of optimism about their future there."
Though Arsenal are overstretched in midfield, reports had suggested manager Arsene Wenger was prepared to move the youngster to a central role at the fulcrum of his attack in the same way he adapted Robin van Persie's position during his time at the club.
Following a campaign in which Olivier Giroud has led the line almost unchanged, Arsenal are in desperate need of additional forwards and Wenger is expected to make bolstering his attack his primary objective in the summer window.
Draxler is expected to make up part of Germany's World Cup squad this summer but could be a peripheral figure in Brazil as he lies behind Bastian Schweinsteiger, Toni Kroos and Sven Bender in the pecking order under Joachim Low.
Arsenal have endured injuries to several key midfielders this season including Mesut Ozil, Aaron Ramsey and Jack Wilshere but with Abou Diaby showing little sign of returning the club are in desperate need of a defensive minded player.