Jens Lehmann believes that Lukas Podolski and Per Mertesacker have what it takes to win Arsenal a trophy, but the Gunners legend knows that the duo will need to improve their pace to adapt fully to the Premier League first.
Mertesacker made the move to the north London side in the final 24 hours of the 2011 summer transfer window, and the defender took some time to settle into the Premier League after moving from the Bundesliga, with injuries causing concern during the season.
Podolski, meanwhile, came to Arsenal this summer after having a huge impact on Cologne last season, and so far he has proven to be a striker full of potential to take the place of prolific goalscorer Robin van Persie.
And Lehmann, who starred in Arsenal's keeper position in the 2000s, says that the pair will get to the point where they can be the best attacking and defensive duo in England.
"Now with Podolski and Mertesacker they have two German players who are very experienced because of their caps in the national team of Germany, I think they're near 100, both of them are near 100 and still at a young age," he told the Mirror.
"They are expecting of course to see them performing three times a week on a high level, so far my impression is that everybody's quite happy with them, but everybody knows that they still have to improve, to adapt to the English football and to adapt to the pace of the game there.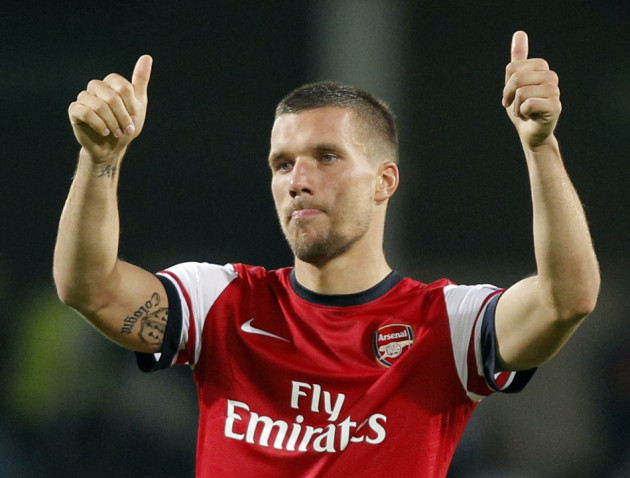 "Lukas and Per are both mentally strong and they have definitely got the potential to perform and to improve their game."
The former stopper also believes that despite the Gunners having limited transfer funds compared to the big spenders in the Premier League, they still have a good chance of coming out on top when people least expect it.
"I'm quite optimistic about the current season and hope of course that Arsenal will win something," he explained.
"All right, there are some teams like Real Madrid, Barcelona, Man City, Chelsea, who come into the game with big money in the bag, and only one of them can win the trophy.
"That shows you that you have to be better at little details in knowledge, wisdom and approach of your team and of your set-up.
"Arsenal always had a great approach, they always made it into the top four with probably the smallest budget of all the big teams now, and so why should it not happen this year that all of a sudden, when nobody expects them to win something, all of a sudden they go on to win something."