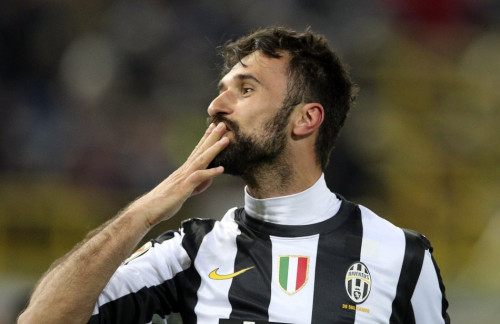 Arsenal have made an enquiry on the availability of Juventus striker Mirko Vicinic and are willing to take the striker on loan till the end of the season, according to the Metro.
The Gunners are in the market for a striker and are looking at Vucinic as a stop-gap option before splashing the cash in the summer to secure a world class player to lead their lines.
The Italian has made 14 appearances this season, scoring two goals in the process and will be a good backup for Olivier Girould who is currently the sole centre forward at Arsenal following an injury to Nicklas Bendtner. Theo Walcott, who had churned up good steam following his return from an abdominal problem is also out with for the season.
Arsenal were interested in a move for Alvaro Morata from Real Madrid but the move has broken down with the Spanish giants willing to keep him at the club. Arsene Wenger knows that he needs a striker in this transfer window if he has to keep his side on top of the Premier League and is looking at every avenue possible to help his side shed their eight season barren run.
The Gunners have also been linked with moves for Diego Costa and Julian Draxler but are unlikely to get them in this window, something which Wenger can ill afford.
However, the Arsenal boss, following their 2-0 win over Fulham, denied reports of them being interested in Vucinic but insisted that they are in the market should a player be made available.
"We are looking at potential possibilities for us to get someone in, but we are not especially in for Vucinic. Some people have visual capacities that I don't have. We are not on any special case. I would love to announce something that would excite you and me, but I don't have the possibility to do it," Wenger said.