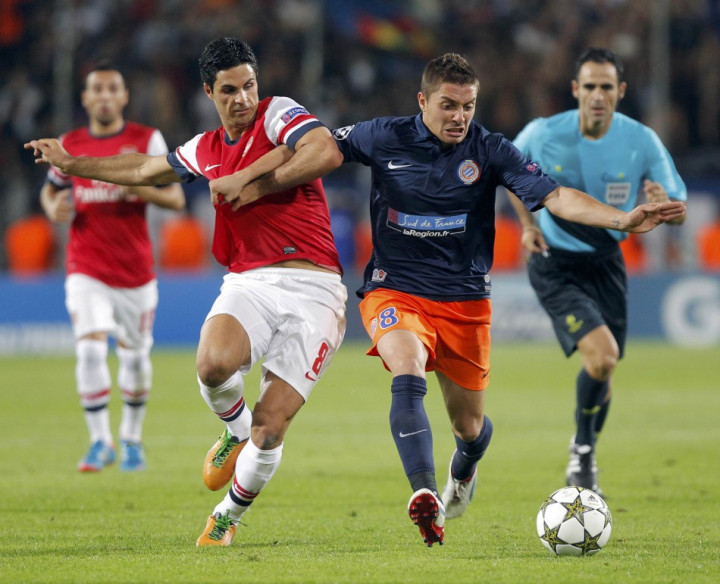 The 30-year-old former Everton player admitted his changed role sees him less likely to move forward in attack and more likely to sit deep and organise play. The Spaniard was unfairly branded a panic buy from the Toffees on the deadline day of the 2011/12 summer transfer window but has since established himself as an integral part of a Gunners squad that continues to leak key players... the most recent being Dutch striker Robin van Persie and Arteta's midfield counterpart, Alex Song.
Indeed, the club's statistics department reveals the midfielder has an astonishing 94 percent pass completion rate this season (790 overall) and won more tackles (31) than any Gunner this season.
"It's a very important job, balancing the team between attack and defence, and that's what I've been attempting to do. I've had to change my mentality a little bit - I know that I can't go forward as much as I used to, and I need to sacrifice more in attack - but if it's beneficial for the team I'm more than happy to do it," Arteta explained to the club's website, adding, "If you want to play at a top-level club like Arsenal you have to adapt to different roles and situations. We've got so many attacking players now, with a lot of quality going forward, and I know I now have more defensive responsibility."
"There are many different aspects to it," he said, "For me it's not only about how strong physically you are, or how demanding the position is physically - it's about being aware, anticipating, being able to read the game and assess what's happening. Sometimes you don't need to make unbelievable tackles to win the ball back - not if you're in the right position."
Spanish Duo Snubbed
Meanwhile, despite the excellent domestic performances of Arteta and his compatriot Santi Cazorla, both were left out of Vicente del Bosque's side to play 2014 World Cup qualifiers against Belarus and France. However, Arsenal fans will likely not be too disappointed at the snub, considering how important the two are to the club's fortunes. Indeed, the injury to England international Theo Walcott will have worsened Wenger's unlucky run with hits to key players. Given that the squad is already missing an important midfielder in French international Abou Diaby, the fact that Arteta and Cazorla have been left in London will be good news for the club.