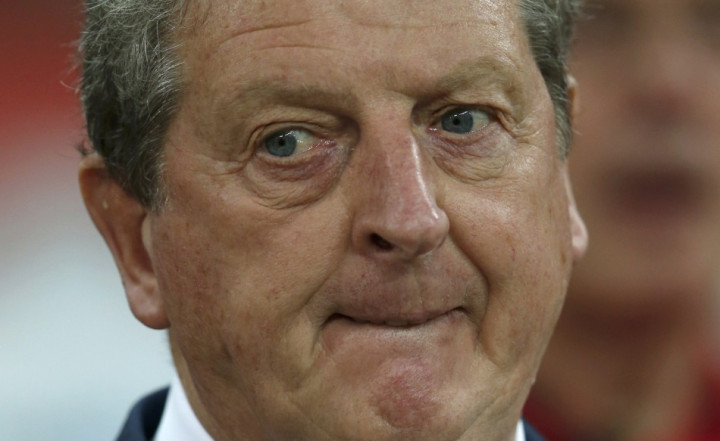 England manager Roy Hodgson has criticised San Marino goalkeeper Aldo Junior Simoncini for a wild tackle that put Arsenal and England winger Theo Walcott in hospital with a suspected broken rib.
"It was a very bad challenge," the former West Brom boss said. "He is in hospital and will stay in hospital overnight. He is having scans and tests, and we can only hope it is not too bad. It was a very poor challenge and really we should have been 1-0 up after two or three minutes from a penalty."
Walcott was brought down by Simoncini after ten minutes of England's World Cup qualifier against San Marino. The 23-year-old forward raced on to a through ball from Spurs defender Kyle Walker, the keeper came out to meet him and then flattened him. However, the referee, Gediminas Mazeika of Lithuania, did not deem the incident worthy of any punishment and Walcott was subsequently replaced by Walker's club team mate, Aaron Lennon. Hodgson, though, was considerably less than amused, as was everybody who saw the challenge.
"If I described it as reckless, I would be being kind. It was a very fierce challenge, although I don't think for one minute there was any malice in it. Irrespective of that, it was a very bad challenge. And really and truly when your goalkeeper does that I think you are very lucky to a) have him still on the field, and b) not have a penalty given against him," Hodgson stated.
Walcott was taken to hospital immediately, and although the severity of his injury is still unknown, he will not play in England's Tuesday night qualifier in Poland. The Daily Mail reports the Arsenal player was admitted for breathing difficulties and broken ribs and there are reports that he was coughing blood.
The injury is not likely to make things any easier for either Hodgson or Walcott's club manager Arsene Wenger, whose Arsenal squad has been decimated by injuries to key players. Arsenal resume domestic duties on 20 October, when they visit Carrow Road.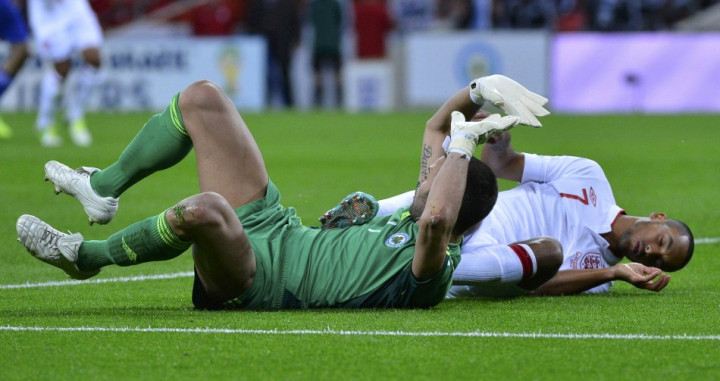 Meanwhile, as for the match itself, England registered their second 5-0 win of the qualifiers in three games and have now scored 11 times in the qualifiers so far. The goal scorers at Wembley were Wayne Rooney (35 pen, 69), Danny Welbeck (38, 71) and Alex Oxlade-Chamberlain (77) and, as Hodgson pointed out later, despite the horrific injury to Walcott, there were positives from the game.
"There are a lot of positives. There were almost 85,000 people - I thought that was fantastic. The type of football we played would have entertained them. There could have been a lot more goals, but there was a lot of goalmouth action and a lot of quality passing in the game," the coach commented. "We were patient, we probed and created chances on a regular basis throughout. They were two extremely positive aspects."
Other highlights of the evening's action from Wembley included a first ever senior goal for young Gunner Oxlade-Chamberlain, and Rooney becoming the fifth highest scorer of all time for the England national team.