Arsenal youngster Alex Oxlade-Chamberlain has revealed Arsene Wenger played an important role in his signing for the north London club. The 19-year-old England international was courted by rivals Manchester United two years ago, when he moved from Southampton to the Emirates.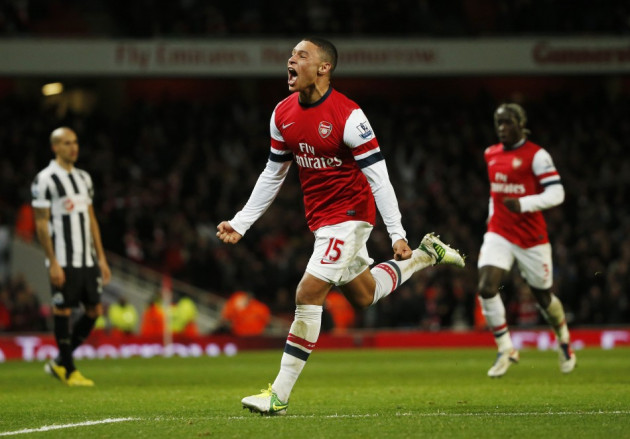 "Arsene Wenger had a massive influence on me signing for Arsenal. He has been [at the club] for 15 years and is a massive character and personality, who would attract any footballer in the world," Chamberlain stressed.
"Before I signed, I went and watched Barcelona and Liverpool at the Emirates Stadium. To see the fans, the atmosphere, and realise that I would play on that stage, was a dream, and for it to become reality was amazing," the young midfielder added.
Sir Alex Ferguson's interest in Chamberlain was revealed a year after the young midfielder moved to London. His father, Mark Chamberlain (himself a former England international) said his son spoke to United but turned them down to play for a club he had always admired.
Difficult Season
However, the midfielder has failed to live up to expectations so far this season; he has made only 17 starts, across all competitions, and scored only twice, with three assists to add. Nevertheless, he remains confident of his abilities and the future.
"People forget that I am still 19, and I forget that because I put a lot of demands on myself. I will be 19 at the start of next season as well. I have got a lot of learning to do. This season there have been good parts, but there have also been frustrating parts for me which I have learnt a lot from and will continue to do so," Chamberlain said.
The former Saint's youth product also his spot in Roy Hodgson's England senior squad to worry about, particularly with the 2014 FIFA World Cup scheduled for next summer. But here too Chamberlain says he will remain calm and sure that he can take the chances when they come.
"For a 19-year-old to be in my position makes me happy and to be able to play for England is an honour. I have to accept that there are a lot of quality players around me and the most important thing is for the team to do well and finish where we want to finish," he concluded.