Arsenal striker Lukas Podolski is reportedly concerned at his lack of playing time at the Emirates this season. The German international has not started a Premier League game in two months, despite being in reasonable form in his debut season in England - eight goals and nine assists from 26 games.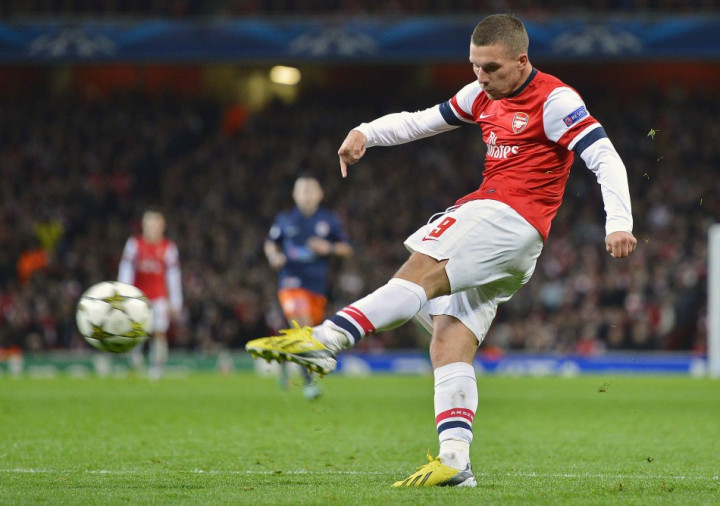 It is believed the 27-year-old former Bayern Munich star is worried he has lost Arsene Wenger's faith and reports linking him to Atletico Madrid and Juventus have only served to increase his fears. The Sun has also linked Galatasaray and Anzhi Makhachkala with the player
"Lukas is very happy at Arsenal, he loves the fans and enjoys living in London but he is increasingly worried that Wenger may have a problem with him. He is frustrated at not playing for such a long time. He is an experienced player and he wants to play football," a source close to the player told The Sun.
Podolski signed last summer for £11m from hometown club FC Koln, as part of a trio of attackers (the others being Olivier Giroud and Santi Cazorla) to replace Dutch striker Robin van Persie. However, he has not started a game since the disastrous 1-3 home Champions League defeat to Munich in mid-February, and was on the bench for last weekend's league match at West Brom.
Despite the speculation and his concerns, Podolski has been quoted as saying he is pleased with his time at the north London club. He said that although he felt he could contribute to the team's cause, he respected his manager's decision and would be patient.
"I did well earlier in the season, then had an injury which put me out for a few weeks, but now I'm back and hope to play a big part in the final run of matches. But it is the coach's decision, of course. Overall I am happy. You must remember I came from a team [Cologne] that was going down, and it wasn't so easy to come straight to a big club and be strong. But I believe I have the quality to play in every game here and think I have done well until now," he told the club's website.