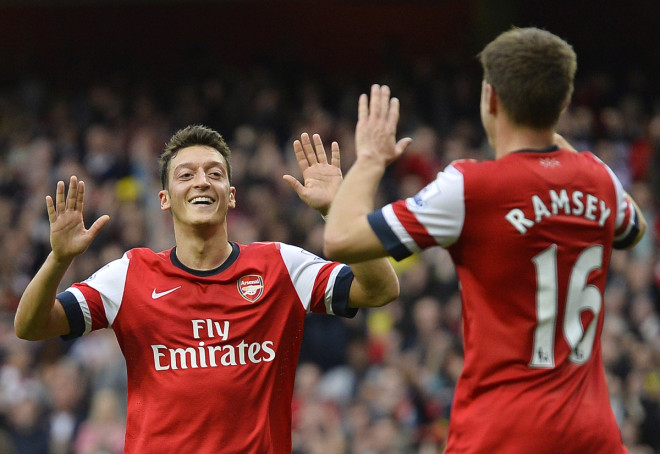 Arsene Wenger has confirmed that Arsenal's star signing Mesut Ozil will be fit to play next weekend against Hull City after missing over a month of football with a hamstring injury.
The £42.5m man from Real Madrid has had a transforming effect on Arsenal ever since his arrival at the club, helping them to the top of the league and instilling a sense of belief in the Gunners. However, as the season wore on, the midfielder was struck with fatigue and the absence of Aaron Ramsey and Theo Walcott restricted his capability to string through balls from the centre of midfield.
His arrival will be at a crucial time for Arsenal, who have to win their remaining four games in order to keep their hopes of finishing in the top four alive. The game against Hull is the first of the four important fixtures left, with Everton set to travel to Southampton and Hull, followed by visits from the Manchester club at the fag-end of the season.
The manager, following their 3-1 win over West Ham at the Emirates, revealed that Abou Diaby is back in full training while Ozil is set to start against Hull in a FA Cup final preview next Sunday.
"Abou is back in full training on Thursday. It's very difficult to say [if he will play this season] because he has not played for over a year now, and it's very difficult for me [to decide]. He looks physically fine, but he has to play one or two games before I consider bringing him back. Ozil should be available for the weekend," Wenger told www.arsenal.com.
Wenger also spoke about his team's chances of making the top four, which depends on Everton's points in the run-in.
"In the Premier League, if you can find me some easy games I am taking them, but I haven't seen some this season. We know we have to win our games and hope that Everton will slip up somewhere. Let's focus on our job and not look too much at Everton. If we need that we'll see when we need it, but at the moment we can only do it if we win our games, so let's focus on that," he concluded.