Alan Hansen has argued that Arsenal are now in serious danger of falling behind the big clubs, even though Arsene Wenger continues to insist that the side don't need to spend big to compete for trophies.
It's been a disappointing season for Gunners fans all round, with the club currently in tenth place on the table and hardly showing signs of improvement as their campaign continues.
A 2-0 loss to Swansea at the weekend leaves Wenger facing closer scrutiny than ever before, and after losing multiple stars over the last two summers, it looks to be a difficult feat for the Frenchman to continue to convince fans that with limited spending the trophies will come.
And Hansen has argued that with Arsenal currently looking more like a mid-table team than genuine trophy challengers, they must spend big to get their reputation back in tact.
"If they had genuine prospects, they would not have lost players such as Robin van Persie," he wrote in the Telegraph.
"Footballers basically want money first and then trophies, but Van Persie obviously looked at the situation at Arsenal and decided that he was not going to win anything with them, so he moved to United instead.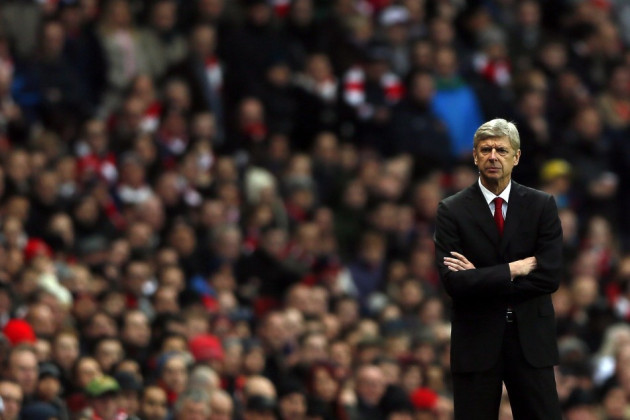 "It is no good having a chief executive in Ivan Gazidis saying that Arsenal will be able to compete with any club in the world within two years because the reality is that it will be too late then.
"If Arsenal fail to qualify for the Champions League, which is a possibility, then none of the top players will want to sign for them, so what is the point in saying they will compete in two years' time?"
Hansen believes that it's time Wenger accepts that in reality, Arsenal need to spend big in the next transfer window if they hope to compete with the likes of Chelsea and the Manchester clubs for trophies.
"To succeed in football, you have to speculate to accumulate, otherwise you fall away - and that is what Arsenal are in danger of doing," he explained. "But if the fans' protests grow and Arsène finds himself under more pressure, will he start to ask himself whether he needs it?
"He has built the club up and, by qualifying year after year for the Champions League, has delivered success during the eight year barren run.
"But things seem to be going downhill and the only way to arrest the slide is to accept the reality that you now have to spend to compete."
Arsenal have four games over the next two weeks, with Olympiakos in the Champions League, Bradford in the League Cup and West Brom and Reading in the league.
Wenger will no doubt be expecting maximum points from both league matches at least, with the table still particularly tight and the Gunners just two wins from breaking into the top four again.