Arsenal Signing Ready To Show True Potential
Lukas Podolski hopes to start the season for Arsenal much like he did with Cologne last season
Lukas Podolski is ready to show his true colours for Arsenal now that the club are getting ready for the upcoming season, with the striker hoping to take the side to end their trophyless run by the end of his first campaign at the Emirates.
Podolski joined the club early on in the summer transfer window from Cologne, and after missing out on the pre-season tour after a strenuous schedule at the Euros, the star is set to face his former side in a friendly this weekend in a Gunners shirt for the first time.
And with the season starting within the next two weeks, Podolski says he's getting back into a routine through his training at Arsenal, and can't wait to show his worth for the side like he did at Cologne.
"I am now two weeks into training and it is not easy when you come back to your club after a European Championship or World Cup," Podolski told the Arsenal website.
"I need some more weeks and then you will see the real Podolski.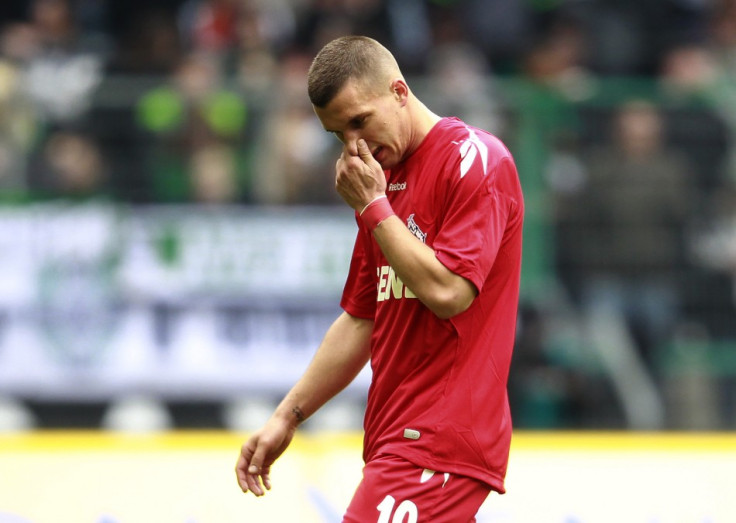 "It has been very good so far. This is a big club with a great coach and I am very proud to be an Arsenal player. I am looking forward to the first match of the season against Sunderland."
For Podolski, it's a strange twist that in his first match for Arsenal he has to face his old club, where he spent the majority of his youth career and returned after a spell at Bayern Munich for a second time.
And though he knows it won't be easy facing his former teammates, the 27 year old is going to into the match aiming to take the win.
"I'm back home, in my city, and looking forward to the match," he explained. "This is my first match for Arsenal and I am very happy.
"I hope I can score against Cologne, it is not easy but we want to win the match and then look ahead to the game against Sunderland.
"I started my career in Cologne when I was 10 and then I was in the first team when I was 17 or 18 years old. It was a great time; they have great fans, a great stadium and it is a great club.
"Now they are in the second division, so it is not easy but I hope they will go back up to the first division."
© Copyright IBTimes 2023. All rights reserved.