Arsene Wenger has revealed Spain international Cesc Fabregas could return to Arsenal in the future. The 25­-year-old midfielder joined the Gunners from his hometown club, Barcelona, as a 16-year-old youth player and spent eight seasons developing at the Emirates. He then re-joined the Nou Camp club in a £35m deal last year, after a protracted transfer saga.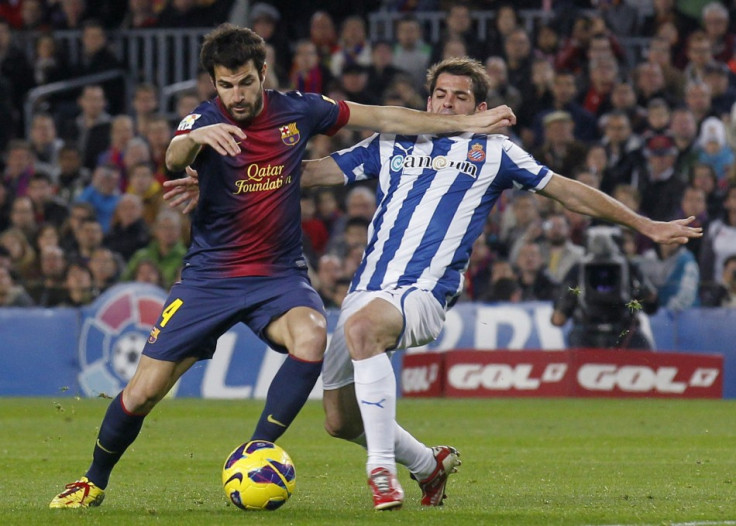 However, Fabregas has always remained an admirer of the Gunners and Wenger in particular. He backed his under-fire ex-boss earlier in the season, ahead of the start of the group stage of the Champions League. The Gunners' season has been disappointing so far and the north London club find themselves playing catch-up with both Manchester clubs, Chelsea, Tottenham and even Everton ahead of them in the race for European football next term.
"Arsene Wenger is amazing and I'm sure he will prove it again this season. He always finds the best young talent in Europe and has the courage to bring them in and give them their chance," Fabregas stressed in September.
"I'm not convinced that he will not one day come back here, because he is a real Arsenal man. He loves Arsenal, he watches every Arsenal game. But of course, Barcelona was his home town and you had to accept that that would come into it, especially with their club having the best team in the world at that time," Wenger explained to the Telegraph.
The playmaker had a stellar Arsenal career, with over 300 appearances and 57 goals to his name as a Gunner. He may have won only two trophies in eight seasons with the club (the 2004 Community Shield and the 2005 FA Cup) but he remains, for Wenger, "a world-class player".
The Spaniard, who has two European Championships and a FIFA World Cup medal to his name with his national side, has seven goals and nine assists from 24 appearances for Barcelona this season and is well on course to claim his first ever Spanish league title.
Wenger on Ticket Prices
Meanwhile, Wenger has insisted ticket prices at the Emirates are fairly priced.
The Gunners host champions Manchester City on Sunday evening and there has been considerable criticism of what fans feel is exorbitant pricing for matchday tickets at the Emirates. The champions returned over 900 unsold tickets to Arsenal (from an allocation of 3,000 for visiting fans), as football fans sought to take a stand against the trend of increasing ticket prices.
"They [the fans] have a choice. They can choose to go to Manchester United. They can choose to go to Manchester City. They can choose to go to Barcelona. You can choose to go to the theatre or not. Of course it's fair," Wenger said.