Arsenal chief executive Ivan Gazidis has confirmed that the Gunners have provided Arsene Wenger with enough cash to spend in the summer and is hoping that the Frenchman will be able to end the north London club's eight season trophy-less run.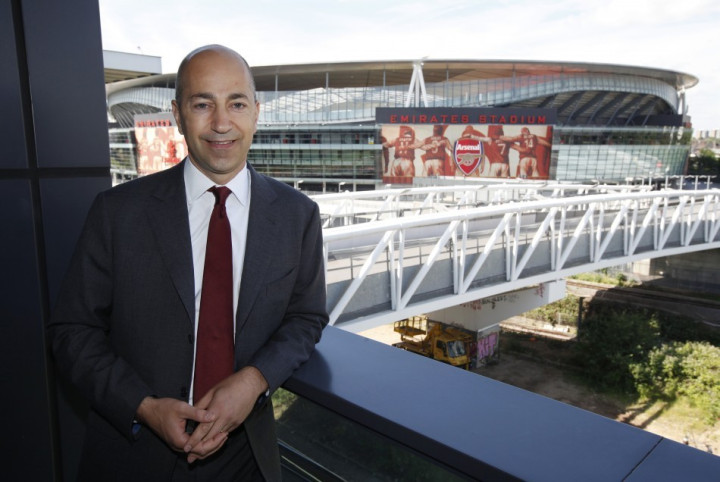 Gazidis revealed that the Gunners were a bit handicapped financially in the last few years but are now ready to move forward and challenge for the title.
"Arsene is not scared to spend money but he has to believe they are top-class players who will add to the squad. Arsene has done an outstanding job to make sure Arsenal stay in the mix with the top teams - not where we want to be, but in the mix - on a relatively limited budget. We have been consistent, in that we haven't slid backwards or gone forwards. Now we need to go forwards," Gazidis said.
Gazidis bemoaned the transfer saga that has held Arsenal back over the last couple of seasons, and hinted that the Gunners have learnt their lesson and are looking to do business early this summer. 2011 saw Arsenal lose Cesc Fabregas and Samir Nasri before the start of the season and had to embark on a deadline day spending spree, which saw them buy Mikel Arteta and Park Chu-Young.
Last year, it was a case of Robin van Persie's departure to Manchester United but the club are better prepared this season and have no big names moving out of the club under current circumstances.
"We will strive to get our business done early. Last year we looked at what was done two seasons ago, which is certainly not something we would ever choose to go through again. I certainly hope we will get our business done early this year. It is an unusual transfer window. For us it is good as we don't have the uncertainty we did in previous windows, which is good for our planning," he stressed.
"There are some uncertainties, first of all due to the managerial changes, and we are seeing the impact of the financial changes (with the introduction of Financial Fair Play). But we are trying to get things done," Gazidis added.
The Gunners have been linked with a move for Gonzalo Higuain and have reportedly matched Marouane Fellaini's release clause worth £22m.