Arsenal have expressed an interest in Benfica defender Lorenzo Melgarejo, according to his agent Juan Gabriel Appleyard. Turkish giants Fenerbahce are the other club reported to be interested in the Paraguayan's talents. A fee in the region of £5m is expected to be enough to persuade the Portuguese club to part with the South American.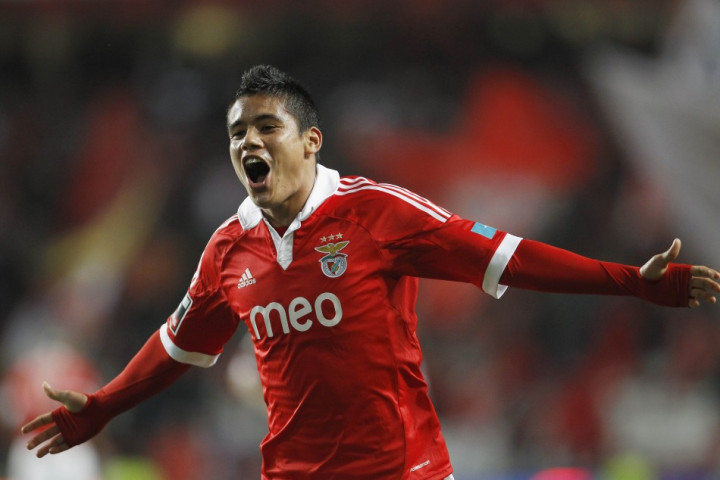 "Arsenal and Fenerbahce have enquired about Melgarejo. But so far there has been nothing concrete," Appleyard told Radio Monumental.
The Gunners are expected to make a formal offer once the transfer window opens. However, it remains to be seen if Arsene Wenger will actually act to sign Melgarejo. The 22-year-old is primarily a left-back and the Premier League club do have two first team options - Kieran Gibbs and Nacho Monreal - in that position.
Reinforcements in a central defensive position are, perhaps, the need of the hour, with rumours linking two of three first team options with summer exits. Belgian Thomas Vermaelen was linked to Spanish champions Barcelona, among others, and Frenchman Laurent Koscielny with a move to Bundesliga and European champions Bayern Munich.
Alex Oxlade-Chamberlain on New Season
England international Alex Oxlade-Chamberlain has revealed he is eager to return to his best form new season. The midfielder failed to establish himself in Wenger's first team, starting only 11 games. He was, however, part of the national team that travelled to Brazil for an international friendly; the former Southampton youngster scored in the 2-2 draw at the Maracana.
"It has been an up and down season but I have learnt a lot. No-one knew what to ­expect in my first season at Arsenal and everything I did was a bonus. This season people expect you to continue in the same way, and so did I. I have made a few steps forward and had a few setbacks," the 19-year-old explained.
"But I am happy with how my season has gone, and the way we finished with ­Arsenal. I'm really looking forward to next season. I'm still young, and every day I am involved with ­either Arsenal or England will help me," he added.