Arsenal are planning a £12m approach for Liverpool defender Martin Skrtel. The Sun reports Arsene Wenger is a fan of the Slovakian international and wants the 28-year-old to boost the Gunners' defensive options ahead of the new season. Skrtel's contract with the Merseyside club still has three years left.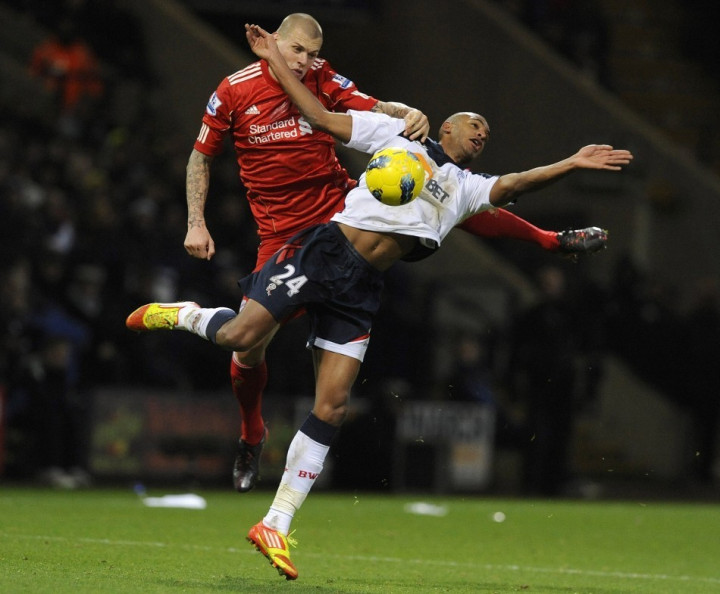 Skrtel has confirmed his unhappiness at being dropped in favour of Jamie Carragher, who retired at the end of this season. The Slovak had only 23 Premier League starts last season and lost his first team place to both Carragher and Danish international Daniel Agger.
The defender previously interested Zenit St Petersburg, with the Russians expected to bid in the mid-season transfer window. The Mail Online believed a bid of £13m could have persuaded Brendan Rodgers to facilitate Skrtel's return to St Petersburg; former manager Rafael Benitez signed Skrtel from the club in 2008.
Interest from Russia has cooled since earlier this year, leading to speculation Arsenal's approach may be an easy one. The north London side are expected to sign defensive reinforcements, following rumours of Belgian Thomas Vermaelen leaving for Spanish champions Barcelona and French international Laurent Koscielny a subject of interest for European champions Bayern Munich.
One possible replacement for Wenger is Swansea City captain Ashley Williams. The 28-year-old Welsh international was also linked to Anfield but according to Goal.com, club management felt a proposed £12m bid would not represent value for money. Instead, the Mail believes Williams has agreed terms with Arsenal. Liverpool, meanwhile, have confirmed a free transfer for Ivorian Kolo Toure, when his Manchester City contract expires in July.
Meanwhile, Skrtel's agent, Karol Csonto, has played down rumours regarding his client's transfer to Serie A side Napoli coinciding with former Inter Milan boss, Rafa Beniitez's return to the Italian club after an interim spell in charge of Chelsea.
"It's not possible; I consider it a very difficult deal. I like Napoli and I have great respect for this club, but Martin still has a three-year contract with Liverpool and the most likely outcome is he remains there. They [Skrtel and Benitez] spent three years together, establishing a good relationship with him, but I repeat now that this suggestion is impossible," Csonto told Calciomercatio.it.