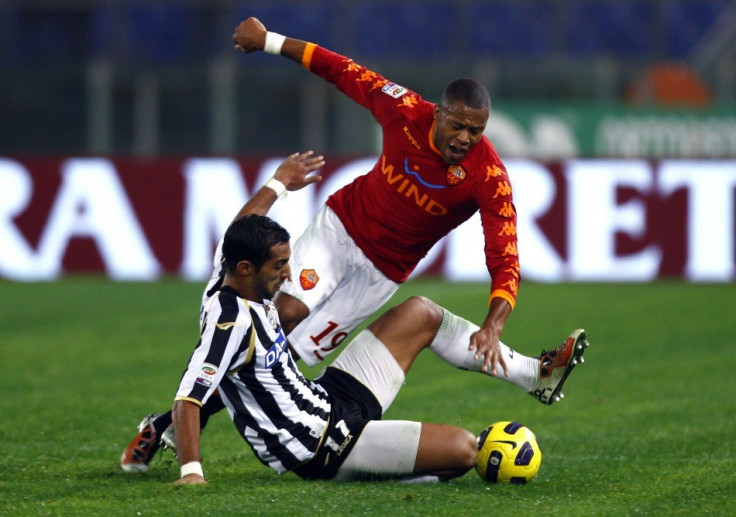 Arsenal and Tottenham transfer target Medhi Benatia has revealed he may consider his future with present club Udinese, if he received a suitable offer from other sides.
The 26-year-old centre-back has a contract that runs to the summer of 2017. The Express believes both Arsene Wenger and Andre Villas-Boas will have Benatia in their sights this summer, as both managers look to strengthen their defences ahead of the new season. Benatia was also linked with a move to Inter Milan in the mid-season window.
"I am loving my time in Italy. The league is a very good one and to be honest an important Italian team will always be my first choice unless a huge English, Spanish or German club come for me," the Moroccan international explained.
"The Italian league is a top championship with top clubs who are very attractive as well, so if I have an offer from a big club here I will listen to that club," he added.
Benatia has been in good form for the Serie A club this season, making 14 starts in the league, with one goal and one assist to his name.
Wenger on Weekend Tie against United
Meanwhile, Arsenal host Manchester United this weekend and Wenger claims he is unaware of how Sir Alex Ferguson's men, who have already been crowned the season's champions, will approach the game.
"We can only focus on our own performance. We are on a very strong run in the last 10 games and we have a good level of confidence. As you say, they can relax but it's very difficult to know that. What we know is that no matter what state Man United will be in, we will need a great performance to beat them and that's what we want to focus on," the Gunners' long-serving boss told the club Web site.
"I don't know [if they are motivated by a record points haul]. I expect them to come and try and play their game and win the game, like they always do when they come to the Emirates," he added.
Arsenal need to beat United to retain their hopes for a top four finish and, with that, qualification to next season's Champions League. The north London side are third in the table but Spurs, in fifth, are only two points behind and have a game in hand.