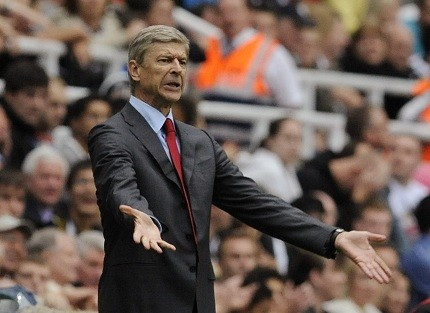 French defender Laurent Koscielny says that he and other Arsenal players earlier doubted themselves and their manager Arsene Wenger after they had a disastrous start to the season.
After the departure of Samir Nasri and Cesc Fabregas to Manchester City and Barcelona respectively, Arsenal saw themselves drop to as low as the 17th position in the Premier League following many defeats including an embarrassing 2-8 drubbing at the hands of Manchester United.
During this time Koscielny says that he and his Arsenal teammates had completely lost their faith in themselves and Wenger.
"The start of the season was catastrophic. We lost key players from our system. There was late recruitment of new players and the mayonnaise needed time to 'take'," ESPN quoted Koscielny as saying.
"There was the thrashing at Old Trafford. The whole world buried us. But you don't lose your football like that. It can happen that a small grain of sand jams the engine and after that you start to doubt your own qualities, the club, the coach and everything else. We needed to sort that out. Everyone got down to doing just that, the coach, the club," The Sun quoted the French defender as saying.
Arsenal made a stunning comeback in the latter half of the season catapulting themselves from the bottom of the table to the top.
"The group was not giving enough for the club and we realised that. We got down to work and we said the things we needed to say. After that, one win, two wins, confidence returns and things follow on from that. The new players were immersed in the group and so on," Goal.com quoted Koscielny as saying.
According to the 25-year-old Frenchman, the Gunners' season changed after their 5-2 victory over Tottenham Hotspur. Arsenal, after being two goals down, made a stunning comeback to completely destroy the Spurs in the latter half of the game.
"We had pressure, we were five points behind Chelsea and everyone was saying 'the Champions League is finished, Tottenham will win'. But we beat them 5-2 and we put together seven wins. Maybe we didn't dominate all our matches but mentally we had something more," said Koscielny according to Arsenal's official web site.
Despite everything Koscielny says that this season has taught him a lot and he is much more mature than he used to be.
"I don't want to have regrets. If we have a nightmarish start to the season it's because we deserved it. Frankly I want to come out of this season having matured. The season I went through was tough but full of emotions," he added.
Arsenal, who are only just above Newcastle and Tottenham, have no option but to win their final Premier League fixture against West Bromwich Albion if they are to qualify for next season's Premier League.