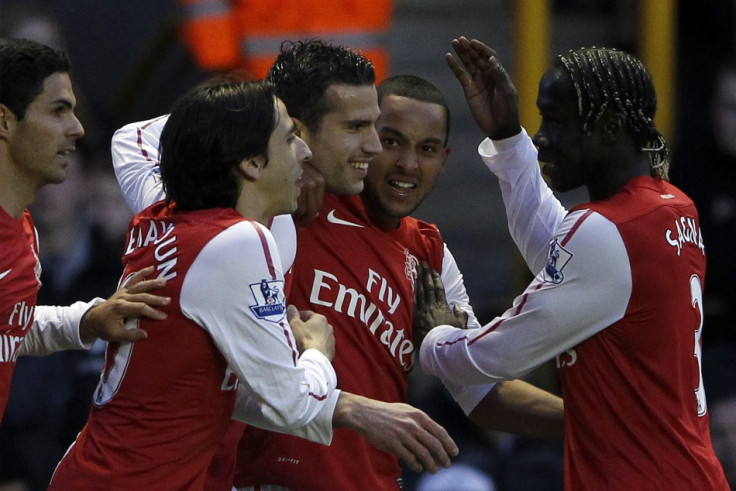 Arsenal are reportedly set to ask captain Robin van Persie to see out his contract with the club even if the Dutch forward rejects a new long-term deal, The Sun reports. The 28 year old has only a year left on his present contract and is due to meet the club's chiefs on Wednesday to discuss his future.
The Dutchman, who was the league's top scorer this season with 30 goals, will reportedly be offered a club record deal worth £130,000 and a £5mn sign-on fee should he sign the new contract, according to an earlier IBTimes UK report.
Although the package will make van Persie the highest paid player in the club's history, the player knows he could earn more elsewhere and the Gunners fear that their skipper will now ask for a move to Manchester City after the player's agent Kees Vos admitted he had a meeting with City executive Brian Marwood at the Etihad. However, the club will obviously be unwilling to agree to such a deal and should such a situation arise, they will tell their star player they intend to hold him to his existing contract even if it means he will move for free next summer.
Meanwhile, a report on Goal.com states Italian champions Juventus have pulled out of the race to sign the forward over wage disagreements. The Serie A champions were strongly linked to van Persie after club officials expressed their admiration for the player. However, it is now understood they have turned their attention to Napoli's Uruguay striker Edison Cavani.
In related Arsenal news, the club's unbeaten title-winning team of 2003/04 - the Invincibles - have been voted the Best Team in the Premier League's 20 Seasons Awards. Coached by Arsene Wenger and captained by Patrick Vieira, the squad became the first team to win the league title without losing a game and the Arsenal manger expressed his pride and delight in the achievement.
"I am proud of [winning the award] and very happy because I told the players at the time they could achieve something special once we were champions by being invincible. They did it, but at the time they did not realise how much it would mean in the future. I am very proud of that," Arsenal.com quoted Wenger as saying.
"My target is to get back to that level. I feel we are not far from coming back to fight for the championship, and let's hope we can show that next season," the Frenchman added.