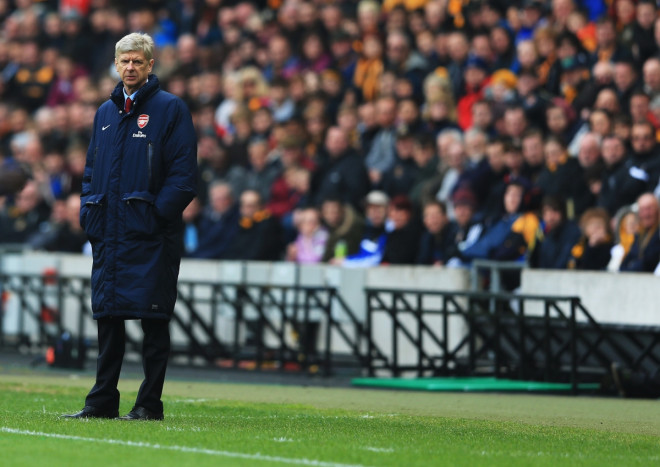 Arsenal manager Arsene Wenger has blamed a string of high-profile injuries on the club's failure to sustain a bid for the Premier league title.
Victory over Hull City on Easter Sunday saw the Gunners remain ahead of Everton in the race for the fourth Champions League place with three league games left, on a weekend during which Chelsea dropped points in the title race.
Liverpool's win at Norwich City saw Arsenal's title challenge mathematically end and Wenger says his side's hopes were disrupted by several high-profile injury casualties.
"The table is very close. Liverpool have played very well in the second part of the season and I wouldn't like to take anything away from them, but they had (the advantage) that they could focus completely on the Premiership," Wenger added.
"If you look at the injuries, the players we missed plus the schedule we had, it was much heavier than Liverpool.
"We lost (Theo) Walcott on an accident, we lost Ozil - we haven't really found why - Ramsey, maybe we overplayed him a little bit and should have rested him before he was injured.'
"What is important is that we finish as strongly as we can in the Premier League. After that, the cup final will be completely different."
Lukas Podolski, Aaron Ramsey, Theo Walcott, Jack Wilshere and Mesut Ozil have all spent lengthy spells on the sidelines for Arsenal this season.
Podolski missed four months of action with a hamstring tear picked up in the opening weeks of the season, while Ramsey made just his second league appearance of the year against Hull on Sunday.
Walcott was ruled out for the remainder of the season and the World Cup finals after picking up a cruciate knee ligament injury in January against Tottenham and Wilshere has missed the past six weeks after breaking his foot on England duty against Denmark.
Ozil, who had been nursing a hamstring problem since the Champions League defeat to Bayern Munich, returned against Hull after making an impressive start to life at Arsenal.