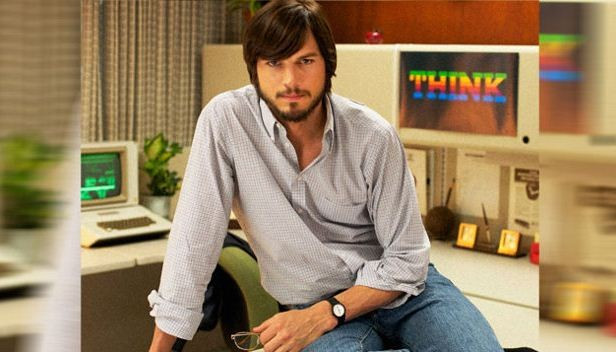 Ashton Kutcher looks uncannily like late Apple co-founder Steve Jobs, as photographs from the forthcoming film on the tech titan's life, Jobs, show. The 34 year old actor sports a goatee and is dressed in a button-down short and jeans, just like the former chief executive.
And last month, Kutcher's co-star, Josh Gad (who plays the Cupertino company's other founder, Steve Wozniak) spoke to Us Weekly about filming.
"I think it's going to be pretty wonderful," Gad said, at the BAFTA Britannia Awards in Los Angeles on 7 November, adding, "Ashton is going to blow a lot of people away. His performance was absolutely transformational. If he looked any more like Steve Jobs, I think it would just confuse a lot of people in thinking Steve Jobs never passed away. It's that uncanny."
"He really immersed himself. I think he has an appreciation for Steve Jobs, the likes of which I've never seen in any actor who's portrayed a real, living person," he added, "Ashton is one of the most giving actors I've ever worked with. I was surprised by his work every day."
The Two and a Half Men star was in India earlier, to film some sequences. Jobs travelled to the subcontinent in 1974, with Dan Kottke, to visit Neem Karoli Baba at his Kainchi Ashram, in search of spiritual enlightenment. Unfortunately, when they reached the ashram, they found out Karoli Baba died a year ago. They then visited the ashram of Hariakhan Baba and spent a total of seven months in the northern part of the country.
As for the film, Jobs, it co-stars Lukas Haas, Dermot Mulroney and Ahna O'Reilly. The plot centres on Jobs himself and how he revolutionised the way mankind communicated, in an increasingly technology-dependent environment.
Jobs died on 5 October, 2011, at the age of 56 after battling pancreatic cancer.
The film has been scheduled as the closing night film of the 2013 Sundance Film Festival, which will run from 17 January to 27 January, in the US state of Utah.
"Jobs is picked to close the event because there is something inspirational about it. To see what he achieved by just like staying true to his vision is something that, you know, I think a lot of people can relate to and get hope from," the festival's director of programming, Trevor Groth, said.