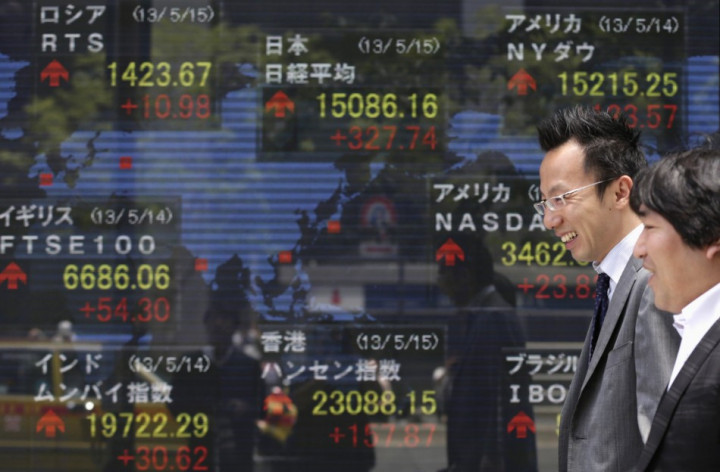 Most Asian markets shed their early gains, as weak earnings from the banking sector disappointed investors in Japan despite better-than-expected economic growth in the first three months of the year.
Japan's Nikkei average shed 1% or 157.97 points, to 14,939.06 after breaching the psychologically important 15,000 mark on 15 May. Japanese banking stocks pulled the Nikkei down despite stronger first quarter GDP data.
Japan's economy grew 0.9%, beating expectations of a 0.7% growth rate. This compares with a 0.3% growth recorded in the previous quarter.
Hong Kong's Hang Seng gained 0.3% or 67.26 points to 23,111.50. South Korea's Kospi gained 0.9% or 18.77 points to 1,990.03 and China's Shanghai composite index was up nearly 1% or 21.77 points to 2246.57.
In Australia, the S&P/ASX 200 declined 0.1% or 7 points to 5,184.70 after the Australian dollar weakened against the US dollar.
On Wall Street, the Dow Jones Industrial Average ended at a record high on the previous trading session, as investors were more confident that the central banks would continue with their stimulative polices after weak data emerged from the eurozone. France slipped into recession while Germany reported 0.1% growth.
In Hong Kong, HSBC Holdings gained 1% after it announced plans to cut costs by up to $3bn by 2016. The bank also plans to axe almost 14,000 jobs world over.
Internet services firm Tencent Holdings jumped 5.2% after it reported strong growth in quarterly profit. PetroChina was down 2%, while Cnooc lost 1.1%.
In Australia, Gold miner Newcrest Mining dropped 5.2%. Miner BHP Billiton lost 0.8% while Oil Search was down 1.2%.
In Tokyo, banking stocks dampened spirits despite the country's three largest banks posting strong results. Sumitomo Mitsui Financial Group lost 2.2%, the Mitsubishi UFJ Financial Group shed 3.7% and the Mizuho Financial Group Inc was down 3.1%.
A stronger yen hit exporters and IT services and products firm NEC lost 1.6% while construction, mining and military equipment maker Komatsu was down 1.5%.