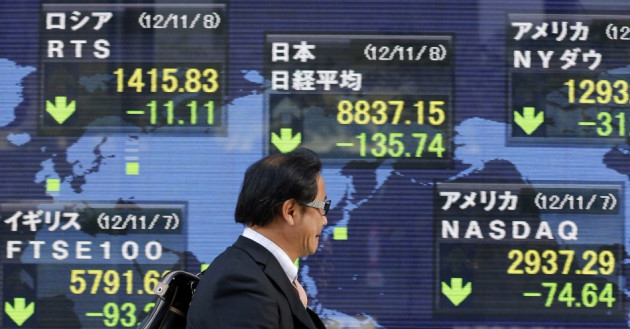 Asian markets have swung to gains in the morning, led by Chinese stocks, but traders remained cautious as the deadlock over the US 'fiscal cliff' negotiations continued.
China's Shanghai Composite Index traded 2.11 percent or 41.68 points higher to 2016.82. Utility-related firms traded highest. Guangdong Meiyan Jixiang Hydropower Company was up 2 percent, followed by Datang Huayin Electric Power Company, which gained 1.79 percent.
Hong Kong's Hang Seng gained 1.04 percent or 226.60 points to 22026.57. Commodity stocks climbed. Aluminum Corporation of China rose 3.34 percent while China Petroleum and Chemical Corporation was up 1.46 percent.
Japan's Nikkei edged 0.12 percent or 11.19 points higher to 9443.65. Electronic major Sharp gained 3.45 percent following reports that Qualcomm will invest up to $120mn in the company. Hydraulic pumps manufacturer Ebara gained 2.20 percent.
South Korea's KOSPI rose 0.46 percent or 8.94 points to 1944.12. Energy-related stocks gained, Keystone Global was up 14.99 percent while Shinhan Engineering & Construction Company gained 14.88 percent.
The Wall Street had ended lower earlier as US lawmakers continued to wrangle on how to avoid the proposed tax hikes and spending cuts that threatens to push the country into recession. President Barack Obama continued to hold firm on the point of increasing the tax-rates of wealthy Americans. But although global investors remain concerned on the outcome of the talks, analysts opine that a solution to the issue will be reached at the last minute.
"The fiscal cliff has the potential to frighten the market until the end of the year, but I don't think it'll be substantially surprising," Peter Esho, chief market strategist at City Index Ltd told Bloomberg. "The market's consolidating after a good run."
Traders in Tokyo remained wary of exporter stocks as the Dollar slipped against the Yen overnight. The greenback was under pressure earlier after data showed that US manufacturing contracted in the month of November.
China's service sector Purchasing Managers Index (PMI) is set for release later in the day. Following the improved manufacturing PMI released earlier, traders will be looking for further signs for growth in the world's second largest economy.