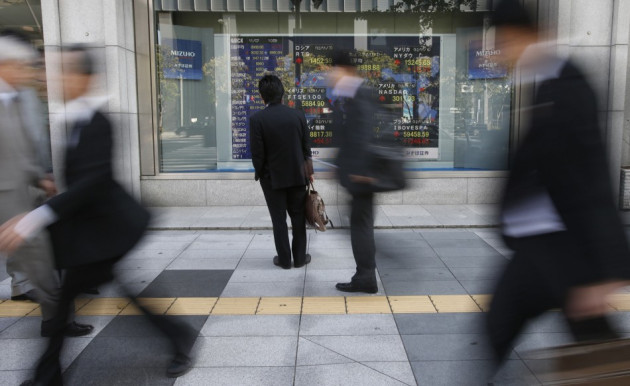 Asian markets have gained as investors await crucial employment data from the United States amid continuing "fiscal cliff" negotiations.
Japan's Nikkei traded 0.20 percent or 19.17 points higher to 9564.33 while South Korea's KOSPI gained 0.48 percent or 9.39 points to 1959.01. China's Shanghai Composite index was up 1.28 percent or 26.00 points to 2055.24. Hong Kong's Hang Seng rose 0.47 percent or 103.89 points to 22353.70.
Wall Street ended with modest gains earlier, after official data showed that US weekly jobless claims dropped to the lowest rate in the month, adding to hopes of recovery in the world's largest economy.
But traders continued to remain wary of the ongoing negotiations to avoid the "fiscal cliff", a combination of tax hikes and spending cuts that threatens to push the economy into recession. Analysts suggest that the lawmakers may reach a solution before time runs out, even though no concrete progress has been made so far. The leaders have now hinted that they have restarted low-level discussions to find a middle ground.
The US monthly employment data is scheduled for release later in the day. Reuters reported that the increase in nonfarm payrolls is expected to have come down to 93,000, compared to October's 171,000 job gain, after super-storm Sandy disturbed economic activity in the country.
In Europe, the European Central Bank held its interest rates steady in its last policy meeting for 2012. The bank slashed its economic forecasts for 2013 with Gross Domestic Product (GDP) expected to decline 0.3 percent in the year. However, analysts expect the lender to ease its policy early next year as the debt crisis continues to threaten the region's economy.
"The ECB appears to have the door open for an interest rate cut, and we expect it to step through early in 2013," said Howard Archer, chief European and UK economist at IHS Global Insight.
"With the eurozone clearly facing a difficult fourth quarter and beyond after moving into modest recession in the third quarter, and with the underlying inflation situation in the eurozone looking relatively benign, we believe that the ECB has ample justification and scope to take interest rates down from 0.75 percent to 0.50 percent sooner rather than later."
Major Movers
Electronic firms traded highest in Tokyo. Shares of Sharp were up 10.55 percent while those of Dainippon Screen Manufacturing gained 4.31 percent.
Schnell Biopharmaceuticals, up 14.99 percent, and machinery manufacturer Hyundai Elevator, which gained 14.72 percent, were the better performers in Seoul.
Financial firms gained in China. Shares of China Merchants Bank were up 2.58 percent in Shanghai while those of China Citic Bank rose 1.86 percent.
Property stocks were up in Hong Kong. China Resources Land gained 3.09 percent while China Overseas Land & Investment was up 1.73 percent.