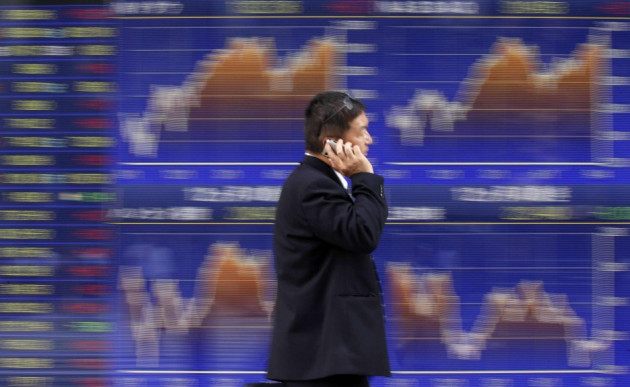 Asian markets have ended the day in the red as global economic concerns increased with worries over US and eurozone issues, while Japanese indicators added fears of recession in the country.
Japan's Nikkei dropped 0.18 percent or 15.39 points to 8661.05 while South Korea's KOSPI was down 0.59 percent or 11.17 points to 1889.70.
China's Shanghai Composite index fell 1.51 percent or 31.38 points to 2047.89. Hong Kong's Hang Seng slipped 1.13 percent or 241.65 points to 21188.65.
Markets in India remain shut for the major part of the day due to a public holiday, holding only a short session in the afternoon.
Concerns on the US "fiscal cliff" continued even as reports said that the country's lawmakers are set to return to Washington with a seven-week deadline to solve the issue. President Barack Obama has called for meetings with businesses, labour and civic heads as well regarding the matter.
Eurozone worries increased after the region's finance ministers failed to take a final decision on the release of bailout funds to Greece. Although Athens has received an extension of two years to meet its budget targets, the country urgently requires aid to avoid running out of money.
Reports from Japan continued to remain bleak. An official report showed that the country's industrial production dropped 4.1 percent in September from the previous month. The data, which followed weak gross domestic product (GDP) figures, have increased concerns that the world's third largest economy is slipping into recession.
Investors in China remained cautious as the Communist government's current party congress is set to conclude, revealing the country's new leaders. Speculations are running high on the new regime's policies as China looks to push its economy forward.
Major Movers
Real estate contractor Shimizu Corporation and telecommunications firm Oki Electric were the major losers in Tokyo, down 5.44 and 5.33 percent.
Shipping related investment firms ended lower in Seoul. Korea Pacific No 05 Ship Investment and Korea Pacific No 07 Ship Investment dropped 15 and 14.97 percent.
In Hong Kong, property developer New World Development Company ended 3.60 percent lower, followed by oil producer China Petroleum and Chemical Corporation, which dropped 2.96 percent.
Property developer Huayuan and utility firm Datang Huayin Electric ended lowest in Shanghai, down 10.05 percent each.