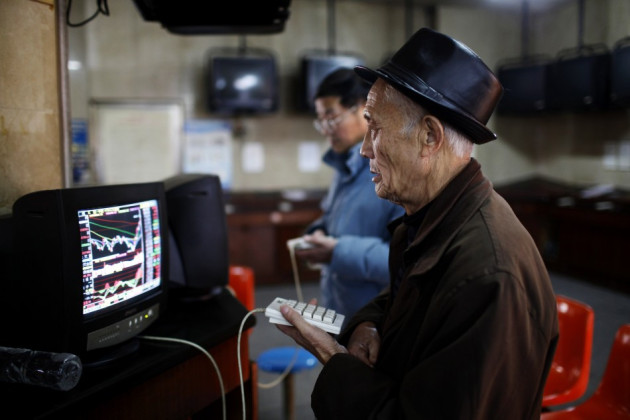 Asian markets outside Japan picked up in the morning session despite a muted start as investors awaited more of the US earnings season and the yen weakened further against the dollar.
Australia's S&P/ASX gained 0.16 percent or 7.60 points to 4717.10 while South Korea's benchmark KOSPI added 0.05 percent or 0.91 points to 1997.58. In China, the Shanghai Composite Index was up 0.16 percent or 3.57 points to 2246.57. Hong Kong's Hang Seng rose 0.30 percent or 69.06 points to 23333.13, while Japanese markets remained shut for a holiday.
US earnings season continues this week with a number of financial heavyweights including Bank of America, JPMorgan Chase & Co and Citigroup reporting their fourth quarter results. According to Reuters' data the overall earnings are expected to rise by just about 1.9 percent, but this lower rate gives the firms a strong chance to beat estimates. Wall Street traders had closed the previous week on a cautious note.
Japanese stock markets remained shut today, but the yen continued its southward movement, hitting the lowest levels in about 30 months as the country's newly elected government pressurised its central bank to take up aggressive monetary easing measures. Over the weekend, Prime Minister Shinzo Abe reiterated his demand that Bank of Japan should raise its inflation target to 2 percent in the medium term to convince markets of its intentions to aid the struggling economy.
Although a decision from central bank has yet to be announced, Abe's comments had the desired effect on currency markets, with the dollar rising to 89.67 yen, its best performance since mid-2010, and the euro gaining to 119.84 yen, the highest in about 20 months.
Major Movers
Financial stocks traded higher in Hong Kong. Shares of Ping An Insurance Group Company of China gained 1.72 percent while China Life Insurance Company added 1.35 percent. Property investor China Resources Land gained 2.65 percent.
Export firm Li & Fung dropped as much as 16 percent to a three-month dip after the company surprised investors by forecasting a sharp fall in operating profit, raising concerns on its capacity to meet earnings targets in the longer term.
Engineering and Construction stocks gained in Seoul. Hanil Engineering & Construction Company gained 14.89 percent while Dongyang Engineering & Construction Corp advanced 14.97 percent.