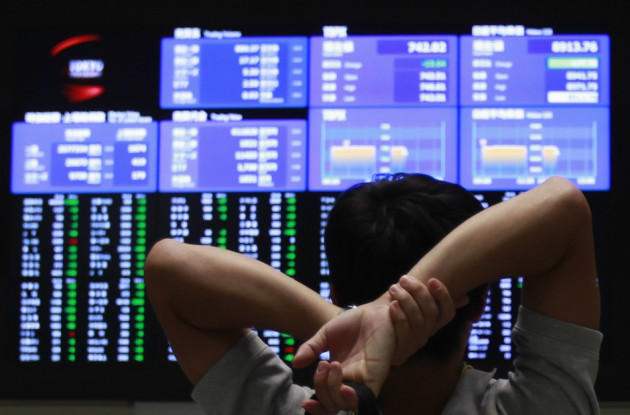 Asian markets have ended mixed as China introduced further monetary easing measures to offset the concerns of the global economy, and Japan decided to cut its currency swap agreement with South Korea.
Japan's Nikkei ended 1.06 percent or 93.71 points lower at 8769.59 while South Korea's KOSPI dropped 0.14 percent or 2.85 points to 1979.04.
China's Shanghai Composite Index gained 1.97 percent or 40.81 points to 2115.23. Hong Kong's Hang Seng rose 0.54 percent or 112.72 points to 20937.28.
India's Bombay Stock Exchange traded higher by 0.13 percent or 24.70 points at 18733.68.
Investors in China remain upbeat after the country's central bank announced plans to inject 265 billion yuan in reverse repurchase agreements to ease the country's tight financial situation.
The bank's governor, Zhou Xiaochuan, provided further encouragement to investors after he reportedly said that the central bank remains flexible to offset the slowing global demand.
"Rumours continue to circulate that the Chinese government will push the button on another round of infrastructure spending, this time focusing on railroad investment," said Justin Harper, market strategist, at IG Markets.
The International Monetary Fund, the World Bank and the Asian Development bank had slashed growth expectations for the world's second largest economy, as global demand slackens.
Japan and South Korea have said that they will pull back a currency swap agreement worth $57 bn as tensions between the two countries over a territorial dispute linger.
Relations between the two countries had been affected by a spat over a group of islands called Takeshima in Japan and Dokdo in Korea.
Although both nations maintained that the decision was purely based on economic reasons, investors may keep a close watch on the developments after the recent flare-up between Japan and China caused significant economic damage.
South Korean investors are also speculating on the Bank of Korea's interest rate decision this week, following promises of efforts to strengthen the economy.
Europe continues to remain a concern especially after the IMF said rise in the eurozone debt crisis could result in Asian economies taking a hit.
Investors will keep a close watch on Greece's negotiations for bailout as German Chancellor Angela Merkel visits Athens to show support to the debt-stricken country.
Major Movers
Shares of Sharp fell the most in Tokyo following reports from Nikkei that the Hon Hai Precision Industry, a prospective investor in the company, wanted its LCD display division to be split.
Honda Motor was down 2.52 percent after the company said its September sales in China were down 40 percent, following the anti-Japanese sentiments in the Communist nation.
Financial firms performed the worst in Seoul. Jinheung Savings Bank and Seoul Mutual Savings Bank fell the most, by 45.26 and 41.35 percent respectively.
Oil firms rose in Hong Kong with China Petroleum and Chemical gaining 3.80 and PetroChina rising 2.11 percent. CNOOC was also higher by 0.65 percent.
Refrigerator manufacturer Huangshi Dongbei Electrical Appliance and magnetic card producer Tianjin Global Magnetic Card were up the most in Shanghai by 10.10 percent and 10.07 percent.
Pharma group Sun Pharmaceutical trader higher by 2.45 percent in India, followed by heavy machinery maker Larsen & Toubro, up 1.98 percent.