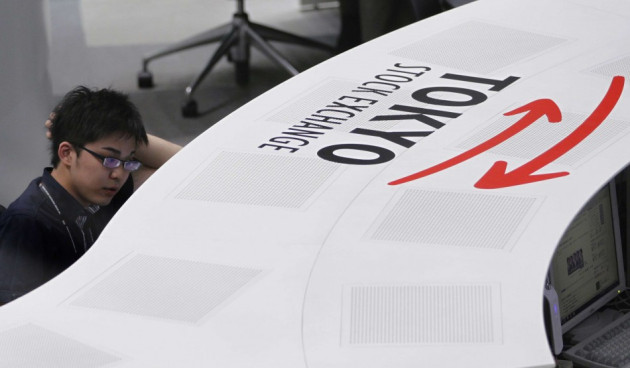 Asian markets have gained amid positive manufacturing data from China and improved US home sales figures, although concerns on corporate earnings continue to impact sentiments.
Japan's Nikkei was up 0.60 percent or 53.58 points to 9007.88 at 03:56 GMT. South Korea's KOSPI gained 0.06 percent or 1.16 points to 1915.12.
China's Shanghai Composite Index rose 0.47 percent or 9.88 points to 2125.87. Hong Kong's Hang Seng traded 0.15 percent higher or 32.31 points to 21796.09.
Markets were upbeat after the HSBC Flash Purchasing Managers Index (PMI) showed that manufacturing in China is improving. The latest data, along with the improved export figures released earlier, add to signs of financial recovery in the world's second largest economy.
"Yesterday's improvement in HSBC's manufacturing activity survey has got tongues wagging that the Chinese economy is bottoming out," said Justin Harper, market strategist at IG Markets, adding that traders will be hoping that the data is not a flash in the pan.
Investors were further enthused after official data from the US showed that the country's new home sales jumped 5.7 percent to 389,000 in September, the highest in almost two and a half years.
However, concerns on corporate quarterly earnings continue to linger. Following mixed performance reports from some of the major US firms, the focus has now shifted to Asian companies.
Major Movers
Metal stocks traded higher in Japan. Nippon Steel was up 2.99 percent while Kobe Steel gained 2.99 percent. Japan Steel rose 1.57 percent.
Mobile service provider KDDI gained 5.13 percent after the company reported plans to take over Jupiter Telecommunications with Sumitomo.
Shares of Sharp reversed earlier gains following reports from the Nikkei that the company is expected to turn out a half year net loss of about $5 bn. Shares of Nintendo were down 1.07 percent after the company reported weak performance in the six months ending September and cut its growth estimates for the fiscal year.
Metal stocks traded higher in China as well. Chongqing Iron & Steel was up 10.16 percent while Liuzhou Iron & Steel and Nanjing Iron & Steel gained 9.93 and 9.91 percent respectively. Shares of Anyang Iron & Steel were up 7.76 percent.
Oil producer Cnooc was up 1.62 percent in Hong Kong after the company reported a 5.2 percent increase in quarterly revenue and revised its 2012 output target upwards. Shares of lifestyle retailer Espirit Holdings reversed earlier losses and gained 2.13 percent.
Hyundai Motors, which is expected to release its quarterly earnings report later in the day, fell 2.24 percent in Seoul. Shares of steel major Posco, which had earlier reported weak results, were down 0.15 percent.