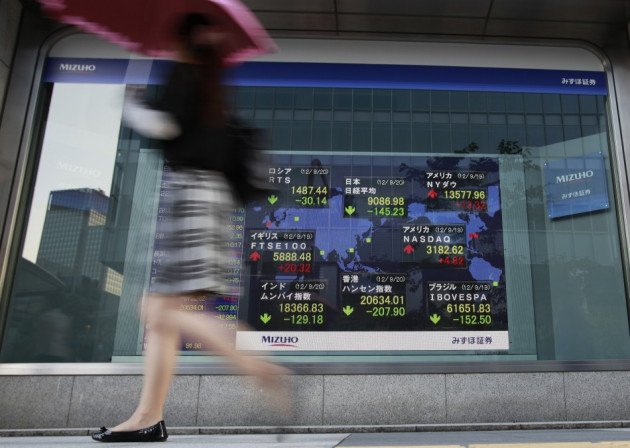 Chinese markets extended the rally in the morning while Hong Kong stocks picked up from a weak start in this year's final working day, with all eyes on US budget talks.
The Shanghai Composite Index traded 1.00 percent or 22.41 points higher to 2255.66. The Hang Seng gained 0.03 percent or 5.80 points to 22672.39. Japan and South Korean bourses remain shut for the day.
Frenzied "fiscal cliff" discussions are continuing in Washington after weeks of political wrangling with the deadline just hours away. Senate leaders are reportedly pushing proposals and counterproposals between each other, but still remain at a considerable distance from a solution.
US stocks had ended lower in the previous week as wary traders pondered over the possible market implications of the talks failing. Over the weekend, President Barack Obama, speaking on NBC's Meet the Press, said that a failure to reach a solution could hurt the economy and the markets.
"It is going to be very hard for the economy to sustain its current growth trends if, suddenly, we have a huge bite taken out of the average American's pay check," the president noted.
Meanwhile, Chinese economic prospects received another boost after the HSBC Purchasing Managers Index's (PMI) December final reading showed that the country's manufacturing rose to 51.5 from 50.9 in the flash reading and 50.5 in November. An index covering new orders too picked up to a near two-year high at 52.9.
"Such a momentum is likely to be sustained in the coming months when infrastructure construction runs into full speed and property market conditions stabilise," said Hongbin Qu, HSBC's chief economist for China, in a note that accompanied the survey.
"This, plus Beijing's reiteration of keeping pro-growth policy in place into the coming year, should support a modest growth recovery of around 8.6 percent year-on-year in 2013, despite the ongoing external headwinds."
Major Movers
Property stocks gained in Hong Kong. Hang Lung Properties gained 1.81 percent while China Overseas Land and Investment was up 1.53 percent.
In mainland China, real estate firm Shanghai Waigaoqiao Free Trade Zone Development, up 10.06 and technology company Tianjin Global Magnetic Card, which rose 10.03 percent were the major gainers.