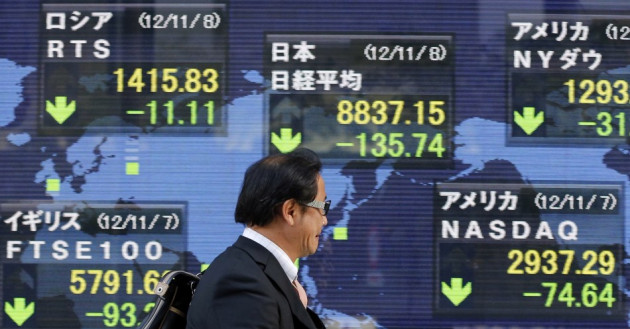 Most Asian markets have gained in the morning trade as a preliminary reading showed that Chinese manufacturing expanded to a 13-month high in November and the Yen extended its weak run against the Dollar.
Japan's Nikkei traded 1.06 percent or 97.64 points higher to 9320.16 at 02:49 GMT while South Korea's KOSPI gained 0.79 percent or 14.93 points to 1898.97.
Hong Kong's Hang Seng index was up 0.30 percent or 65.50 points to 21589.86. China's Shanghai Composite index slipped 0.55 percent or 11.25 points to 2019.07.
US equities had closed higher overnight following official data showing that the number of new people claiming jobless benefits in America had dropped in the previous week, and reports of a ceasefire in the Gaza Strip.
The HSBC Flash Purchasing Managers Index (PMI) showed that China's manufacturing increased by 50.4 percent in November, entering expansionary territory of above 50 for the first time in 13 months. The data has added to hopes that growth is picking up in the world's second largest economy, although the improved indicators failed to cheer up traders in mainland China.
Japanese traders remained upbeat as the Yen remained weak against the Dollar, after official data showed that the country's exports slumped in October. Investors are awaiting the 16 December elections which are expected to bring the current opposition Liberal Democratic Party (LDP) in power.
The LDP has said in its election manifesto that it will persuade the Bank of Japan to increase its inflation target to 2 percent, potentially mounting pressure on the central bank to initiate further stimulus measures.
"This has added to the downward pressure on the yen in anticipation of more aggressive easing from the central bank," said analysts at Capital Economics.
"We are not as concerned as some about the threat that this change might pose to the Bank's independence, but remain unconvinced that tweaking the inflation target would make much difference in practice".
Major Movers
Machinery manufacturers gained in Tokyo. Shares of NTN gained 9.33 percent while those of Kawasaki Heavy Industries and NSK traded 4.92 and 4.83 percent higher.
Electronic firms alsoo gained. Nikon was up 3.91 percent, while Sharp and Citizen Holdings Company gained 3.66 and 2.85 percent respectively.
Property investor China Resources Land, up 3.37 percent, and mobile carrier China Unicom Hong Kong, which rose 2.87 percent, were the top gainers in Hong Kong.
Apparel retailer Avista and construction firm Chin Hung International traded highest in Seoul, up 14.86 and 13.59 percent.
In China, fruit seller Xinjiang Korla Pear Company and electrical equipments maker Guodian Nanjing Automation Company were the better performers, gaining 10 and 6.63 percent respectively.