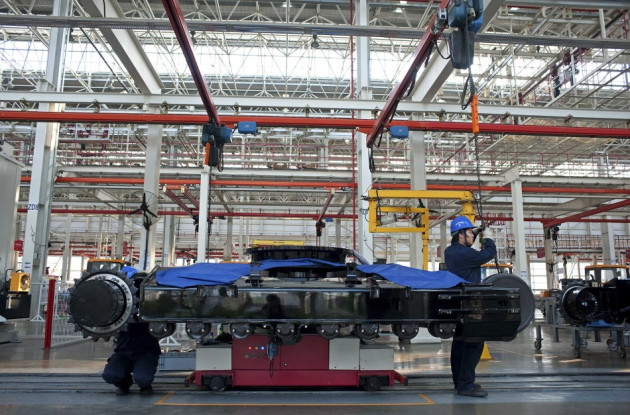 Most Asian markets have gained in the morning session after improved manufacturing data from China offset weaker than expected earnings from regional firms.
Japan's Nikkei average traded 0.08 percent or 7.27 points higher to 8935.56 at 03:00 GMT while South Korea's KOSPI dropped 0.95 percent or 18.15 points to 1893.91.
China's Shanghai composite index gained 0.90 percent or 18.66 points to 2087.54. Hong Kong's Hang Seng rose 0.27 percent or 58.81 points to 21700.63.
"Wall Street traders dragged themselves back into the fray last night battered and bruised after one of the worst storms for more than 100 years," said Justin Harper, market strategist, at IG Markets.
Asian investors were earlier wary of Wall Street's reaction to the storm ahead of the presidential elections. However, US stocks had ended mixed, without major indications of an impact on investor sentiments.
News from China encouraged investors. Official data showed that manufacturing activity in the world's second largest economy jumped 50.2 percent in October from 49.8 percent in the previous month.
However, sentiments were dampened in Tokyo following worse than expected earnings report from electronics major Panasonic Corp. The company said that it estimated an annual loss of $9.6 bn. Other major tech stocks too dropped ahead of their earnings reports.
Uncertainty over Eurozone continued to affect the investor's appetite. Reports suggested that Greece's draft budget for 2013 estimated a worse than expected financial condition. The country's economy could contract 4.5 percent and government debts could surge to 189 percent of the economic production.
Although Greek Prime Minister Antonio Samaras claimed that an agreement for a bailout with international lenders had been reached, the notion was negated by coalition members. Later, the European Commission and Eurogroup also denied the reports.
Major Movers
Technology stocks dropped in Tokyo. Shares of Panasonic Corp were down 18.68 percent. TDK Corp and NTT Data Corp dropped 6.01 and 7.96 percent respectively. Sony Corp fell 4.61 percent.
Softbank, which is acquiring the US mobile carrier Sprint Nextel, gained 4.87 percent after the company posted better than expected quarterly results. Automobile major Mazda Motor Corp, which predicted a full year operating forecast that beat estimates, gained 9.47 percent.
Some of the major pharmaceutical firms reversed their earlier earnings in Seoul. Shares of Kun Wha Pharmaceutical Company dropped 14.98 percent while those of Samil Pharmaceutical Company and Jeil Pharmaceutical Company slipped 11.22 and 10.43 percent respectively.
Real Estate stocks climbed in Shanghai. Xi'An Gree Real Estate Company gained 10.10 percent while Huayuan Property Company and Lushang Property Company were up 10.09 and 10.05 percent.
Lifestyle brand Espirit Holdings and casino operator Sands China were the major gainers in Hong Kong, gaining 4.37 percent and 3.09 percent.