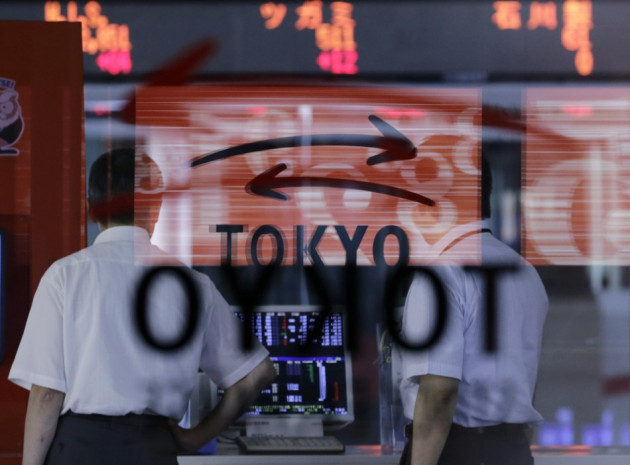 Asian markets ended high after initial losses, backed by better performance by Chinese stocks. But traders remained wary as Spain prepares to announce budget and austerity plans and over concerns on Greece's bailout package.
The Shanghai Composite Index ended higher by 2.60 percent or 52.15 points at 2056.32 while Hong Kong's Hang Seng rose 1.16 percent or 237.44 points to 20765.17.
Japan's Nikkei 225 was up 0.48 percent or 43.17 points to 8949.87 while South Korea's KOSPI was up by 0.42 percent or 8.26 points to 1988.70.
India's Bombay Stock Exchange was up marginally by 0.03 percent or 5.62 points to 18637.79 at 9:51 GMT.
Investors had turned positive after reports that China's central bank injected a net 365 bn yuan ($57.92 bn) into the country's banks over the week in what was termed as the largest weekly input ever.
Shares of trading and financial firms were up in Shanghai. Sinolink Securities which rose 10.03 percent and Hong Yuan Securities which gained 10.02 percent were the better performers.
"China dominated the news today with rumours of a raft of measures designed to boost its stock market," said Justin Harper, market strategist at IG Markets, Singapore.
Investors will keep a close watch on China's official purchasing manager's index which is expected to show that the country's economy is stabilising after a flash PMI from HSBC showed moderate development.
In Hong Kong, telecommunication services company Tencent Holdings and property firm Henderson Land Development were the major gainers, up by 2.42 and 2.35 percent respectively.
In Tokyo, cement manufacturer Sumitomo Osaka Cement rose by 5.32 percent while machinery and metal products maker Furukawa gained 4.29 percent.
Construction firms were up in South Korea, as HwaSung Industrial which rose 15.00 percent and e-Starco up by 14.97 percent were the major gainers.
Utility major Tata Power was up 4.52 percent in India while manufacturer Larsen and Turbo rose 1.78 percent.
Traders remain uncertain about the conditions in Europe as Spain's Prime Minister Mariano Rajoy will present the 2013 budget and the widely unpopular cutback plans. Markets are expected to keep a close watch on reactions to the economic reforms proposed in the country as well as the prospects of a bailout from the European Central Bank.
Moody's Investor Service is expected to announced a review of Spain's rating while the results of stress tests on the country's banking sector will be revealed on Friday, both of which are expected to impact investor's appetite for risk.
The International Monetary Fund and the EU are reported to be at logjam over the proposed plans to bailout Greece. A general strike to protest against the country's proposed austerity plans had turned violent in Athens.