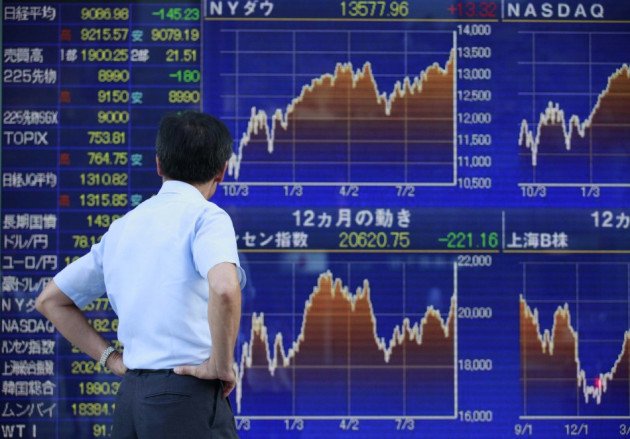 Asian markets have edged up, but remained cautious on concerns of the US corporate profits and impacts on the global economy, ahead of the Asian earnings reporting season.
Japan's Nikkei average gained 0.08 percent or 7.12 points to 9017.83 at 03:56 GMT. South Korea's KOSPI dropped 0.42 percent or 8.15 points to 1933.44.
China's Shanghai Composite index was up 0.09 percent or 1.96 points to 2134.72. The Hong Kong market remains closed for a holiday.
US markets ended the previous day with modest gains reversing early losses after earth moving equipment maker Caterpillar slashed its 2012 earnings forecasts citing the slowing global economy.
The negative sentiments added to earlier concerns which rose after heavyweights such as Google, Microsoft and McDonald's announced weaker than expected quarterly earnings.
Though Yahoo Inc posted an increase in profits towards the end of the day, Asian investors remained wary on the weaker prospects of major blue chip US stocks.
"On the macro level, traders could be distracted by Q3 GDP data out of the US on Thursday," said Justin Harper, market strategist at IG Markets.
"While the Fed's open market committee meeting finishes on the same day there is no longer the high level of expectation as QE3 has now been announced".
Meanwhile Asian corporate earnings season has also begun and investors remain wary of the impact of global slowdown on the region's businesses. South Korean Steel major Posco is expected to release its quarterly results later in the day.
Major Movers
Utility stocks dropped in Tokyo. Shares of Kansai Electric Power Company was down 6.59 percent after the company, for the first time in 61 years, said that it will not pay dividend at the end of the financial year.
Other electric firms Chubu Electric Power Company and Tokyo and Electric Power Company fell 4.04 and 0.75 percent respectively.
Japanese exporters gained as well, even though the Dollar lost its previous gains against the Yen. Camera maker Nikon Corp gained 1.79 percent while Casio Computer Company was up 1.58 percent. Shares of Sony Corp gained 0.51 percent.
Pharmaceutical companies tumbled in China. Jiangsu Kanion Pharmaceutical Company was down 6.09 percent. Zhangzhou Pientzehuang Pharmaceutical Company and Tibet Rhodiola Pharmaceutical Holding Company slid 4.09 and 3.96 percent. Joincare Pharmaceutical Group Industry Company was down 3.66 percent.
Shipping related firms fell in Seoul. Korea Line Corp was down 7.11 percent while Korea Pacific No. 05 Ship Investment Company dropped 7.32 percent.
Shares of Steel producers were down as well. Posco dropped 2.67 percent ahead of earnings reports, while Hyundai Steel Company lost 1.96 percent and Dongbu Steel Company fell 1.40 percent.