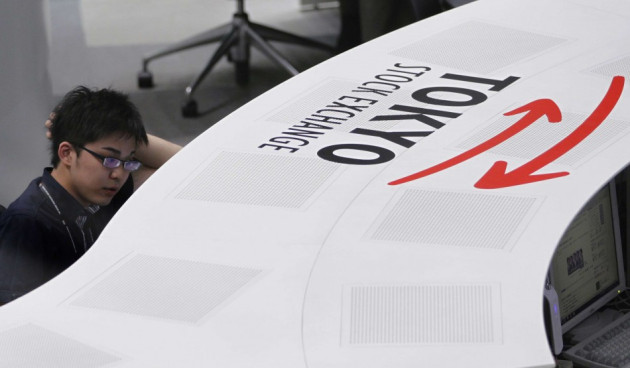 Asian indices have showed a mixed trend following the better-than-expected economic growth data from the US and a change of property tax regulations for non-locals in Hong Kong.
Japan\'s Nikkei index rose 0.24 percent or 21.81 points to 8954.87 at 02:58 GMT. South Korea\'s KOSPI gained 0.35 percent or 6.58 points to1898.01.
Hong Kong\'s Hang Seng index was down 0.17 percent or 35.77 to 21509.80. China\'s Shanghai composite index slipped 0.15 percent or 3.06 to 2063.15.
Official data from US showed that the country\'s gross domestic product improved 2 percent in the third quarter from 1.3 percent in the second.
\"This gives some hope for the world\'s biggest economy that it can fight its way back to recovery mode and could lift Asian markets today,\" said Justin Harper, market strategist, at IG Markets.
\"This week concludes with non-farm payrolls data which will probably be more crucial for Obama\'s presidential campaign than anyone else as Americans head to the polls next week\".
However, the improved growth rate failed to reach the required levels to reduce unemployment in the country.
Traders in Tokyo are also keeping a close watch on Bank of Japan, which is expected to come with further monetary easing policies later this week.
Meanwhile, the Hong Kong government has introduced a 15 percent tax on property purchases in the city by foreigners and corporates, in a bid to ease the soaring property prices in the city. Real Estate shares were down in Hong Kong as investors feared a fall in demand for properties.
Major Movers
Corporate earnings reports from major Asian firms impacted investor appetite in Tokyo. Shares of Nippon Sheet Glass Company were up 5 percent after the Nikkei reported that the company\'s quarterly losses may not be as high as estimated earlier.
Shares of technology firm NEC Corp were up 2.14 percent following reports that the company\'s net profit gained 38 percent in the second quarter from a year ago.
Mobile carrier NTT Docomo fell 5.27 percent after the company slashed its operating profit outlook for the year.
Property shares tumbled in Hong Kong. New World Development Company was down 7.60 percent while Henderson Land Development Company and Sino Land Company dropped 7.56 percent and 5.99 percent respectively. Shares of Sun Hung Kai Properties Limited slid 5.37 percent.
Real Estate firms in Shanghai were also down. Shares of Poly Real Estate Group Company were down 0.93 percent while those of Gemdale Corp were down by 1 percent. Shanghai Shimao was down 0.11 percent.
Shares of the publishing firm Woongjin Holdings Company were up the most in Seoul, gaining 14.88 percent, followed by electrical appliances firm Shinil Industrial Company, which rose14.87 percent.