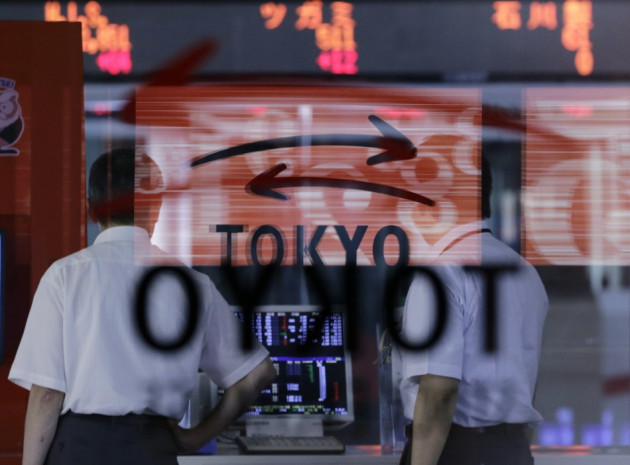 Asian markets have ended higher, led by Tokyo and Hong Kong, after economic indicators from the world's first and second largest economies raised hopes of a global recovery.
Nikkei was up 1.17 percent or 104.35 points to 9051.22 while KOSPI gained 1.07 percent or 20.28 points to 1918.72.
China's Shanghai Composite index rose 0.60 percent or 12.62 points to 2117.05. Hong Kong's Hang Seng ended 1.33 percent or 289.46 points higher to 22111.33.
India's Bombay Stock Exchange Sensex gained 1.20 percent or 222.91 points to 18,779.07 at 09:15 AM.
Investors started the day on a positive note after overnight reports from the US showed improvement in the country's manufacturing and weekly jobless claims data. The better figures boosted hopes of improved monthly unemployment data which is expected to be released soon.
Earlier, official data had shown that China's manufacturing had also improved in October, adding to speculations that the country will meet growth targets in the final quarter of the fiscal year.
Investors in Tokyo remained encouraged on the Yen's weakness against the Dollar after the country's central bank announced plans to boost its asset purchase plan.
Market players in Hong Kong were upbeat following reports that the city's monetary authority had intervened to halt the strength of the local currency against the Dollar, after an increase of fund inflows following the US Federal Reserve's recent monetary easing.
Major movers
Industrial shares ended higher in Tokyo. Ball and roller bearings manufacturer NSK gained 6.18 percent, which heavy machinery maker Sumitomo Heavy Industries and metal cutters maker Amada Company gained 5.03 percent.
Finance and property related stocks climbed in Hong Kong. Shares of China Overseas Land & Investment gained 4.85 percent. China Resources Land and The Bank of East Asia were up 5.08 and 2.45 percent.
Property stocks gained in mainland China as well. Beih-Property Company was up 10.10 percent. Guangzhou Pearl River Industrial Development Company and Xi'An Gree Real Estate Company rose 10.05 and 10.03 percent.
Hankook Tire Worldwide Company and Noroo Paint and Coatings Company were the major gainers in South Korea, up 15 percent and 14.95 percent.
Automobile stocks extended gains in India. Shares of Bajaj Auto were up 2.98 percent. Mahindra & Mahindra and Hero Motorcorp were up 1.79 and 1.67 percent respectively.