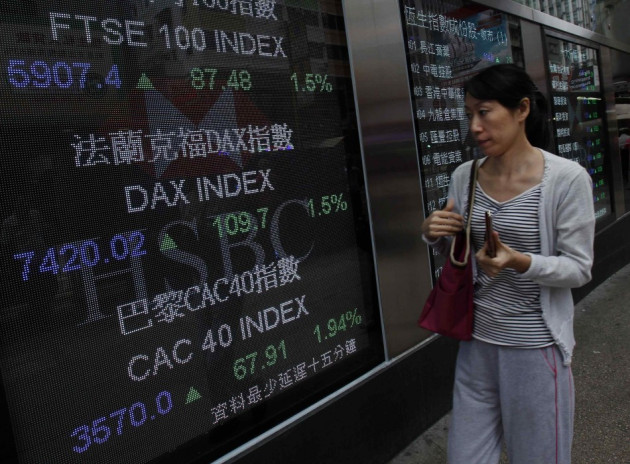 Asian markets outside Japan have slipped as investors remain cautious ahead of the eurozone finance ministers' meet despite positive US employment data.
China's Shanghai Composite Index was down 0.25 percent or 5.31 points to 2080.86 at 04:01 GMT, after remaining shut for the whole of the previous week for holidays. Hong Kong's Hang Seng slipped 0.60 percent or 126.99 points to 20885.39. South Korea's KOSPI was also lower by 0.64 percent or 12.84 points at 1982.33.
Japanese markets remain closed for a public holiday.
Data from the US Bureau of Labour Statistics released in the previous week had shown that unemployment in the world's largest economy had fallen to 7.8 percent in September from 8.1 percent in the previous month. Nonfarm payroll numbers were also positive, rising to 114,000.
Any hopes of a global economic revival from the US indicators were thwarted by worries over the eurozone.
Uncertainty over Spain continues as the country delays its international bailout even as it struggles to control its financial situation.
Protests against the government's proposed austerity measures continued over the weekend as thousands of Spaniards took to the streets in 56 cities. Trade unions have warned of possible further agitation next month.
Eurozone finance ministers, who are set to meet in Luxemburg, are expected to discuss issues regarding international aid for Spain.
"The eurozone's new lifeboat fund, the European Stability Mechanism (ESM), also comes into force," said Jason Hughes, Head of Premium Client Management at IG Markets.
"It will be kept busy from day one, with its first task to lend money to Spain's crippled banking sector."
Germany's Angela Merkel is scheduled to visit Greece this week for the first time since the financial crisis started. Merkel's visit may ease tensions as the Greek government continues to negotiate a 13.5bn euro bailout package to avoid a possible exit from the eurozone.
Major Movers
Metal related shares fell the most in Shanghai. Rising Nonferrous Metals Share Company dropped 4.37 percent while Zhongjin Gold was down 4.07 percent. Tongling Nonferrous Metals Group also slid 3.75 percent.
Property firms were the major losers in Hong Kong. China Resources Land was down 2.45 percent while China Overseas Land & Investment dropped 2.32 percent.
Banking and finance shares tumbled in South Korea with Jinheung Savings Bank and Seoul Mutual Savings Bank down 92.06 percent and 86.39 percent respectively.