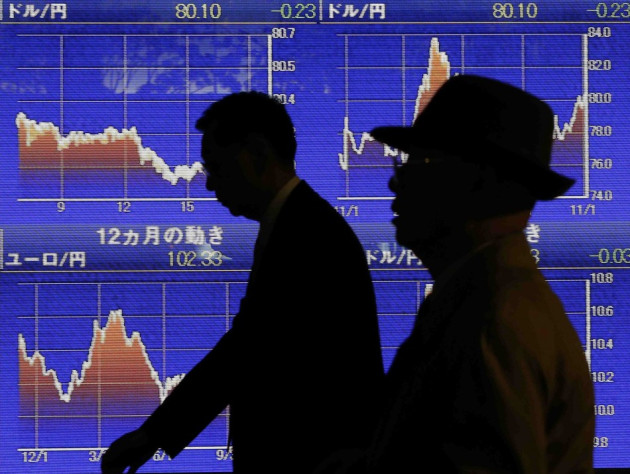 Most Asian markets have gained in the morning trade on hopes that US lawmakers will soon arrive at a consensus to avoid the 'fiscal cliff', while the Yen hit a seven-month low against the Dollar.
Japan's Nikkei traded 1.42 percent or 127.96 points higher to 9152.12 at 02:24 GMT, while South Korea's KOSPI was up 0.98 percent or 18.17 points to1879.00.
Hong Kong's Hang Seng index gained 0.55 percent or 117.24 points to 21276.25. China's Shanghai Composite index dropped 0.15 percent or 3.08 points to 2011.64.
Investors remained upbeat after US President Barack Obama and congressional leaders indicated that a solution to the impending fiscal crisis may be in sight. Fears of the proposed spending cuts and tax hikes leading the country to recession had weighed heavy on global equity markets in the previous week.
Japanese stocks extended gains in anticipation of the Liberal Democratic Party (LDP) coming to power after the 16 December elections. Traders are also keeping a close watch on the Bank of Japan (BoJ), which is meeting for a policy review early this week. A slew of weak economic indicators, including low inflation and estimates that the country may be in recession, has increased speculation that BoJ might initiate further stimulus measures.
However, analysts suggest that having boosted its asset purchase programme in September and October, the central bank might refrain from any such action for the moment.
"In Q3 2012 real GDP showed negative growth, but was within expected bounds, and we thus see no urgent reason for further monetary easing," said analysts at Nomura Research.
Chinese markets continued to drop for the third successive day after the country unveiled its fresh set of leaders for the coming decade. Although the new regime is expected to continue efforts to boost the economy, lack of early concrete indications dampened market sentiments.
Major Movers
Exporters gained in Tokyo. Shares of Canon gained 3.67 percent while those of Nikon and NEC were up 2.87 and 2.78 percent respectively.
Automobile major Honda gained 0.85 percent following reports that the company has revised its Japan sales targets upwards for the fiscal year.
Electronic majors gained in Seoul as well. Samsung and Daewoo Electronic Components traded 2.07 and 7.60 percent higher. Shares of SK Hynix were up 1.20 percent.
Shipping-related firm COSCO Pacific and China Petroleum and Chemical Corporation were the major gainers in Hong Kong, up 3.75 and 2.42 percent respectively.
In Shanghai, Yanbian Shixian Bailu Papermaking Company and Hundsun Electronics traded the lowest, down 19.21 and 6.54 percent respectively.