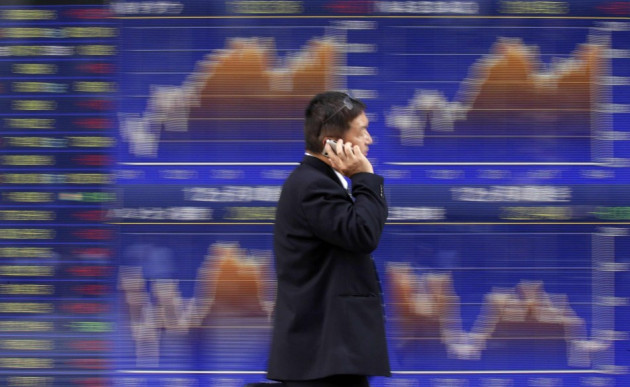 Asian markets have extended gains as investors are encouraged by the European Central Bank's willingness to aid struggling eurozone countries while awaiting US employment data.
The Nikkei rose 0.42 percent or 37.36 points to 8861.95 at 03:58 GMT. South Korea's KOSPI was up 0.27 percent or 5.42 points to 1,998.10 while Hong Kong's Hang Seng gained 0.30 percent or 61.71 points to 20969.66. Markets in mainland China remain closed for public holidays.
Investors are upbeat after ECB's Mario Draghi said that the central bank has a "fully effective backstop mechanism in place" to support crisis-stricken countries such as Spain through bond purchases. He said significant efforts were made by the Spanish government to manage its finances, but more was needed.
Spain continues to delay international financial aid and its economy minister has gone to the extent of stating that the country "does not need a bailout at all".
Analysts suggest that the focus may be more on the world's largest economy for signs of economic revival to make up for Europe's woes.
"Today we are likely to see another one of those 'wait-and-see' sessions in Asia as the main focus of the day will be non-farm payrolls this evening," said Jason Hughes, Head of Premium Client Management at IG Markets.
US payrolls data, to be released at 12:30 GMT, is expected to show the number of jobs rising to 113,000 in September while the unemployment rate is forecast to increase marginally to 8.2 percent from 8.1 in the previous month.
Bank of Japan's policy makers have announced that the country's interest rates will remain unchanged at 0.75 percent.
This was in line with market predictions as the central bank was expected to wait and watch the impact of the recent monetary easing measures it had announced.
Recent reports had shown weakening business sentiments in the country as the economic impact of the territorial dispute with China continues to raise concerns.
Electronic company Alps Electric and chemical firm Toho Zinc were the major gainers in Tokyo, rising 4.62 and 4.44 percent respectively.
Steel maker Citiric Pacific, up 2.72 percent, and oil company PetroChina, which gained 2.20 per cent, performed the best in Hong Kong.
Construction firm e-Starco and semi-conductor testing device maker D I Corp were the major gainers in South Korea, up by 14.92 per cent and 14.91 per cent respectively.