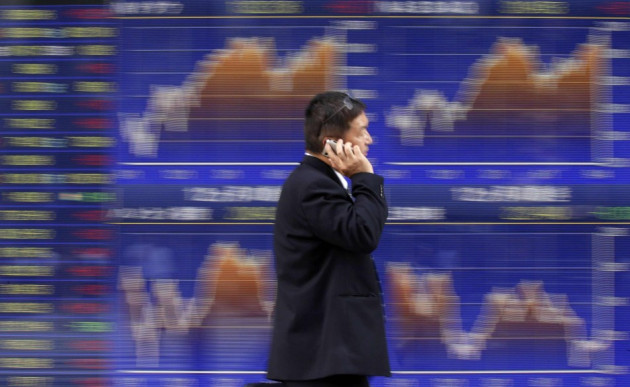 Asian traders have remained positive after the decision on Greece's bailout eased concerns on the eurozone, although worries about the US 'fiscal cliff' weighed on investor sentiments.
Japan's Nikkei ended 0.37 percent or 34.36 points higher to 9423.30 while South Korea's KOSPI gained 0.87 percent or 16.69 points to 1925.20.
China's Shanghai Composite Index slipped 1.30 percent or 26.30 points to 1991.17. Hong Kong's Hang Seng Index eased 0.08 percent or 17.78 points to 21844.03.
India's Bombay Stock Exchange Sensex traded 1.36 percent or 251.37 points higher to 18788.57 at 09:04 GMT.
Markets had started the day on a positive note after the eurozone finance ministers and the International Monetary Fund (IMF) reached a consensus that allowed the crucial bailout funds to Greece. Athens will receive the next tranche of funds in December.
"There was a time when such an event would have traders partying in the streets," said Justin Harper, market strategist at IG Markets.
"But three years on, markets have grown weary to Greece's inability to take a step forward on its road to recovery".
The Yen strengthened overnight, breaking the recent weak run and increasing the pressure on Japanese stocks. The greenback eased after the Greek bailout decision.
The US 'fiscal cliff' returned to focus as President Barack Obama and congressional leaders continued negotiations to avert the impending fiscal crisis. Although the lawmakers are expected to reach a deal at least by the last minute, investors remain wary of the implications of the crisis on the markets.
Improved economic indicators failed to cheer Chinese indicators. The country's National Bureau of Statistics showed that profits of industrial companies surged 20.5 percent year-on-year in October from 7.8 in September.
Major Movers
Shares of some of the major Japanese exporters dropped, reversing recent gains. Shares of Nissan were down 2.85 percent while that of Honda slipped 1.37 percent.
Electronic major Toshiba fell 1.36 percent while Nikon was down 1.11 percent.
Japanese financial firms gained. Shares of Fukuoka Financial Group was up 4.72 percent while those of Shensei Bank gained 3.73 percent. Sumitomo Mitsui Financial Group rose 1.35 percent.
Some of the major pharmaceutical firms gained in Seoul. Wooridul Pharmaceutical gained 15 percent while Wooridul Life Sciences was up 14.99 percent. Shares of Kun Wha Pharmaceutical Company rose 14.98 percent.
Pharmaceutical firm Henan Lingrui Pharmaceutical Company ended lowest in China, down 10.01 percent, followed by Guangxi Fenglin Wood Industry Group Company, which slipped 10.08 percent.
Retailers slipped in Hong Kong. Belle International Holdings was down 2.22 percent while Esprit Holdings dropped 2.07 percent.
In India, pharmaceutical major Cipla, which gained 2.82 percent and Housing Development Finance Corporation, up 2.80 percent were the major gainers.