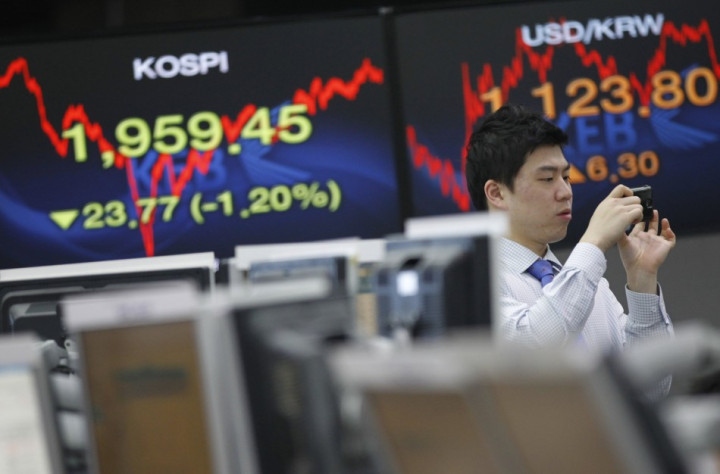 Australia's S&P/ASX 200 advanced 0.9% or 44.10 points to 5,173.6 and South Korea's KOSPI index rose 0.3% or 5.74 points to 1,971.5.
In China, the Shanghai Composite is trading at 2,225.3, up 19.86 points or 0.9%. Hong Kong's Hang Seng index rose 1% or 233.9 points to 22,923.8.
The Japanese markets are closed for a public holiday.
Earlier, the non-farm payrolls report by US Department of Labour showed that the economy created 165,000 new jobs in April above economists' forecast of nearly 145,000. The unemployment rate declined by 0.1 percentage point to 7.5%, a four-year low in April.
The figures that painted a brighter picture of the world's largest economy came amid fears of a slowdown in the second quarter.
Following the report, the Dow Jones Industrial Average climbed 1%, and the S&P 500 ended 1.1% higher to surpass the 1,600 level. The S&P 500 has so far surged 139% from a 12-year low in 2009, on the back of better-than-estimated corporate earnings and continued bond purchases by the Federal Reserve.
The US dollar gained against the yen, and is currently trading at 99.09 yen, up 0.1%.
The jobs report also helped some commodities futures on Friday, helping major Asian resource shares. US crude prices gained more than 1% to $97.00 per barrel, reaching a fresh one-month high.
Copper that had fallen nearly 20% in the past three months rallied 6.5% on Friday to $7,270 per tonne.
Major Movers
In Australia, miners BHP Billiton was up 2.7%, Rio Tinto added 3.3%, Alumina Ltd. surged 5.1%, and Fortescue Metals Group advanced by 4.1%.
Hong Kong real estate giant New World Development rose 2%, steel maker CITIC Pacific rose 1.7% and retailer China Resources Enterprise rose 1.3%.
Gains on the Chinese market were led by mining company Tibet Summit Industrial and e-commerce firm People that rose 10% each. Utilities company Wuhan Sanzhen Industry advanced 9.98% and book publisher Jiangsu Phoenix rose 8%.
In Korea, publisher Woongjin Holdings surged 15%, NamKwang Engineering & Construction and Woongjin Energy rose 14.8% each and Byucksan Engineering & Construction gained 14.7%.