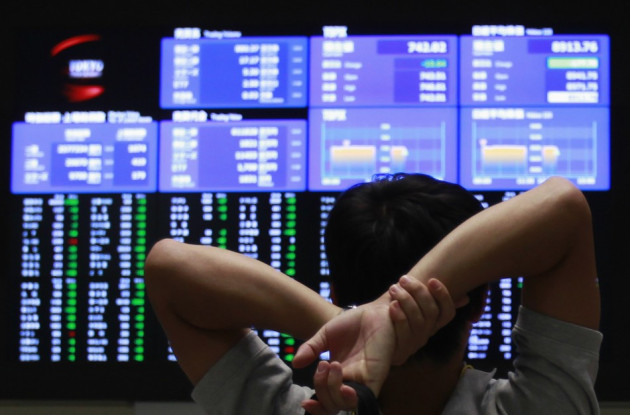 Asian markets have gained in the morning trade as investor sentiments turned positive on the American economy after a senior US House of Representative leader expressed optimism that the 'fiscal cliff' talks will reach an agreement.
Japan's Nikkei traded 0.66 percent or 61.33 points higher to 9369.68. Textile firm Toyobo Company and metal major Nisshin Steel Holdings Company were the major gainers, up 5.61 and 4.66 percent respectively.
South Korea's KOSPI rose 0.90 percent or 17.13 points to 1929.91. Notable gainers were Chungho Comnet Company, up 14.85 percent and Shinsung Solar Energy Company, which gained 2.56 percent.
Hong Kong's Hang Seng index was up 0.46 percent or 100.47 points to 21809.45. Property investor Wharf Holdings gained 1.39 percent while retailer Belle International Holdings gained 3.03 percent.
China's Shanghai Composite Index gained 0.01 percent or 0.12 points to 1973.64. Financial firm Zhuhai Boyuan Investment Company traded highest, up 4.94 percent, followed by Henan Huanghe Whirlwind Company, which gained 3.98 percent.
Wall Street closed overnight with gains after the U.S. House of Representatives speaker John Boehner said that he was "optimistic" that the lawmakers would reach a deal to avert the impending fiscal crisis from the proposed tax hikes and spending cuts. President Barack Obama also appeased investors by saying that he hoped to reach a consensus on the issue before Christmas.
Although such comments help to boost sentiments, analysts opine that there is too much talk and not enough action on the issue. Traders remain wary of how the Republicans and Democrats plan to strike a deal, given their differences.
"So far it has been all talk and no action on scaling the fiscal cliff. Comments are likely to continue from US lawmakers, both optimistic and pessimistic, on progress made on diverting $600 billion of tax hikes and spending cuts," said Justin Harper at IG Markets in Singapore.
"Each time sentiment is likely to turn sharply leading to a volatile period for US equities, and possibly global markets, until politicians sign off on a new budget plan for 2013".
Other economic indicators released overnight also added to the concerns. Official data showed that new-home sales dipped in October and the government revised its September estimates downwards.