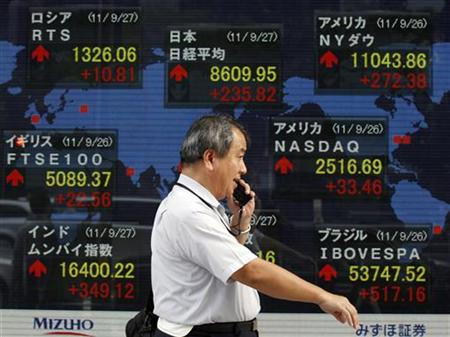 Asian markets ended mixed as concerns over the eurozone crisis and the global economy continued to affect investor sentiments.
The Nikkei 225 closed higher by 0.25 percent or 22.25 points at 9091.54 supported by better performance from Suzuki Motor Corp which rose 4.92 percent and Teijin which gained 4.40 percent.
Hong Kong's Hang Seng was up marginally by 0.02 or 3.98 points to 20698.68 percent. Major gainers included Espirit Holdings higher by 4.25 percent and China Resources Enterprisers up 1.77 percent. China's Shanghai Shenzhen Index ended lower by 0.24 percent or 3.90 points at 2029.29 as Zhongjin Gold and Chenzhou Mining Group fell the most by 4.48 and 4.02 percent respectively.
South Korea's KOSPI fell as well, by 0.60 percent or 12.03 points to 1,991.41. Shinsung Solar Energy and Mirae Corp were the major losers down by 15.00 and 14.99 percent respectively.
India's Bombay Stock Exchange was up 0.32 percent or 56.58 points to 18729.92 at 9:44 GMT as markets speculate on government reforms and the possibilities of their implementation. Bharat Heavy Electricals up by 2.67 percent and Cipla by 2.16 percent were the major gainers.
Germany had become the focus of global markets after reports that the country's business confidence declined for the fifth consecutive month in September, raising concerns that the crisis could affect even the strongest economies in the region and adding to worries over the impact of the monetary easing plans by the European Central Bank.
"The near term outlook is likely to remain one of caution until some progress in the Eurozone is in evidence. However, growth concerns suggest any improvement in sentiment will be tenuous at best," said analysts at Credit Agricole CIB in Hong Kong in a market commentary.
On concerns of slowing global economy, the world's largest earth moving equipment maker Caterpillar, cut its earnings forecast for 2015. Shares of Japanese construction firms slumped with Kawasaki Heavy Industries down 1.78 percent and Komatsu 1.02 percent.
Investors will also be keeping a close watch on Spain this week as the country is expected to present its draft budget plan for 2013 along with plans for economic reforms and results of stress tests on the banking sector.