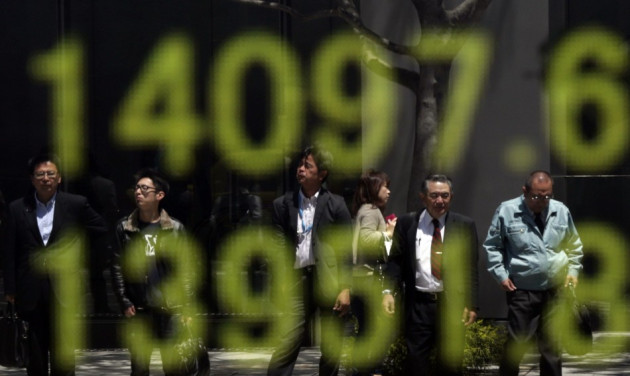 Japan's Nikkei average surged 2.8% or 389.22 points to 14,083.3. Meanwhile, Australia's S&P/ASX 200 fell 0.7% or 34.60 points to 5,121.6, and Korea's KOSPI index declined 0.3% or 5.44 points to 1,956.
In China, the Shanghai Composite is trading at 2,230.9, down 0.26 points or 0.01%. Hong Kong's Hang Seng index declined 0.03% or 6 points to 22,921.1.
The Nikkei rose above 14,000 for the first time since June 2008, on robust jobs data from the US, which indicated that growth momentum is picking up in the world's largest economy. The US is Japan's top export market and any improvement in the US would help the exporters with better demand.
However, data from the Europe showed continued weakness in business activity in the region. Separate purchasing managers' indexes released by Markit showed that the eurozone's manufacturing and services sectors have contracted in the first quarter.
The European Central Bank President Mario Draghi hinted a further rate cut given the difficult economic conditions in the euro area. Last week, the central bank cut the benchmark interest rate by 25 basis points to 0.5%.
Investors across Asia are focusing on the Reserve Bank of Australia's policy decision due later this day. Most of the analysts are expecting the central bank to keep its monetary policy, but they forecast a 25-basis point cut in the cash rate.
Reflecting caution ahead of the policy decision, the Australian markets retreated from the previous day's gains.
Meanwhile, China and Hong Kong also failed to go ahead with the previous session's gains as investors await China's monthly trade data and inflation details, to be released in the coming days.
Major Movers
Among Nikkei shares, Japan Steel Works rose 14%, beverages company Takara Holdings surged 11.8% and chemicals firm Tososh gained 9.2%.
Banking stocks led the decline in Sydney, with shares of Commonwealth Bank of Australia and Westpac Banking falling 1.4%, while Australia & New Zealand Banking Group shed 0.9%.
In Hong Kong, retailer Belle International and telecom company China Unicom shed 1.4% each. China's Jiangsu Yangnong Chemical declined 8% and Shanghai Nine Dragon Tourism fell 4.9%.